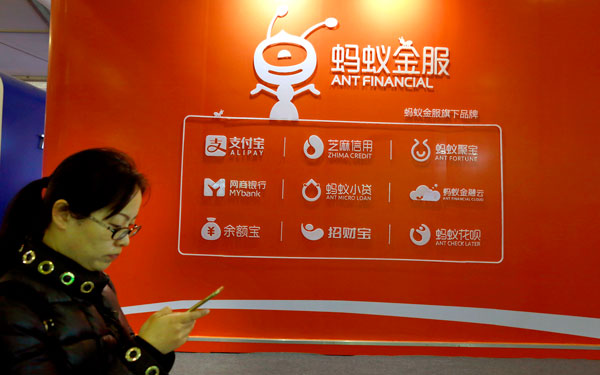 A woman walks past an advertisement for Ant Financial Services Group in Wuzhen, Zhejiang province. Spun off from Alibaba in 2011, the company runs Alipay, China's largest online payment service provider with 270 million monthly active users.[Photo/China Daily]
Alibaba affiliate inching closer to planned public float, say analysts
Ant Financial Services Group, the Internet finance arm of Alibaba Group Holding Ltd, said it has kicked off its second round of financing ahead of a planned initial public offering.
Without revealing its target amount, Ant Financial confirmed on Wednesday that it has begun to raise capital for the second time in six months.
"We don't have a timetable for the IPO yet. But we are paying close attention to the market trends and policy changes," said publicity officials from Ant Financial.
According to a recent Bloomberg report, Ant Financial is planning to raise at least 10 billion yuan ($1.5 billion) in its latest round of financing.
Ant Financial, spun off from Alibaba in 2011, runs Alipay, China's largest online payment service provider with about 270 million monthly active users. It also runs Yuebao, China's largest money market fund, and MYbank, one of the country's first Internet banks.
The Shanghai-headquartered Ant Financial completed its initial round of fund-raising in June 2015, which valued the Internet finance company at about $45 billion.
In the first round of financing, the company successfully landed eight investors, including some State-backed organizations such as the National Council for Social Security Fund, Postal Savings Bank of China and CDB Capital, the investment arm of China Development Bank.
Ant Financial's announcement of a new round of financing comes days after reports that its Internet finance rival JD Finance planned to kick off its initial round of fundraising with a target amount between 5 billion yuan and 6 billion yuan.
The reports also said that JD Finance, the Internet finance affiliate of e-commerce major JD.com Inc, plans to go public in China's A-share market with a goal to list in 2017. JD Finance's public relations office said it does not respond to market speculation.
Despite the fundraising climate in China for tech companies becoming tougher, analysts said it is unlikely that the two Internet finance firms are short of cash.
"Being under the umbrellas of China's No 1 and No 2 e-commerce players, neither Ant Financial nor JD Finance needs to raise funds. I guess they want to raise their valuations via fundraising. More importantly, it will help in boosting credibility and in getting endorsements from government-backed investors," said Li Chao, an analyst with iResearch Consulting Group.
"After all, Internet-enabled finance companies are not traditional finance organizations. They are still new and face regulation risks. Investment from government-backed investors is a sign that they will get blessings from the government, which in turn can help land new customers and further expand their business," he said.
The active moves of fundraising could also be a sign that the two companies want to speed up their listing on China's A-share market, said analysts.
Li Daxiao, chief economist with Yingda Securities Co, said the government support to the "Internet Plus" concept could be a great opportunity for Internet finance companies that are planning listing this year.