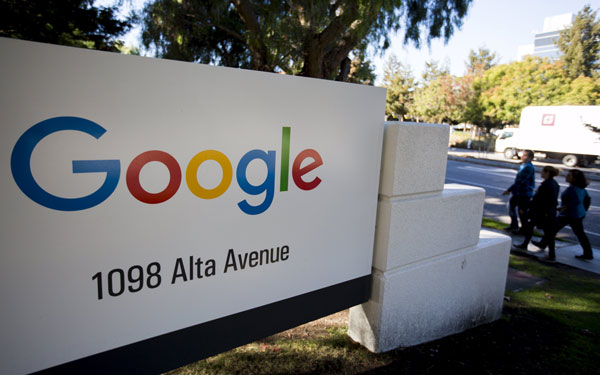 The new Google logo is seen at the Google headquarters in Mountain View, California November 13, 2015. [Photo/Agencies]
Massive hiring drive online focuses on mobile play and 'university outreach'
The buzz that Google Inc may be mulling a comeback to the Chinese mainland became louder this week after the Internet giant's numerous job postings appeared on social media.
On professionals' online network LinkedIn alone, Google advertised as many as 60 jobs in Beijing and Shanghai.
What started as a trickle of job postings in December gained momentum around the year-end and acquired dimensions of a vacancy deluge this week, as if to reinforce that whatever Google does tends to be on an epic scale.
Google has not officially announced a return to the Chinese mainland yet. But it is seriously seeking to hire a wide range of professionals in Beijing and Shanghai, among other places, suggesting its comeback may be nigh.
From interns to executives, Google is seeking to fill a variety of positions in China, across marketing, ad sales, business development, software development, product management, customer service, client relations, and creative and technical services.
Google, which withdrew most of its operations from the Chinese mainland in 2010, declined to comment for this story and did not confirm or deny earlier reports of its possible return.
But people who have worked with Google on projects related to its reopening said earlier that the company may announce its return in the first half of 2016.
Eric Schmidt, executive chairman of Alphabet Inc, Google's parent, said in November that Google still has about 500 employees in the Chinese mainland. Most of them are in its research and development and marketing departments who offer advertising services for Chinese companies that want to go global.
Now, Google's job ads suggest it wants to accomplish much more. In its own words, it wants its new hires in China to do the following, among other things:
・ Drive incremental growth across export retail client portfolio
・ Help new and existing local businesses grow by using its latest advertising products and technologies
・ Develop and implement strategies for university outreach
・ Focus on undergraduate and business school hiring
・ Create innovative automated test systems "for something that's never been done before"
・ Source, structure and negotiate with top publishers such as portals, e-commerce, developers, media networks, video platforms, search engines and carriers
・ Guide technical integration of existing Google products with mobile ecosystems
Gene Cao, a Beijing-based analyst with Forrester Research Inc, said Google's recruitment drive confirms the company's interest in the app store market, since it is hiring many Google Play-related personnel, such as business development managers and mobile application engineers.
In September, multiple sources told China Daily that Google was working on a China-specific version of Google Play, its app store for Android-powered devices, for the mainland market.
"But I doubt whether it can take a big pie from local players. The company has already missed out the highs in the country's smartphone industry, when sales peaked," he said.
Eleven homegrown app stores, including those launched by Qihoo 360 Technology Co, Baidu Inc and Tencent Holdings Ltd, commanded a double-digit market share each as of May 2015, according to the Chengdu-based Big Data Research Center.