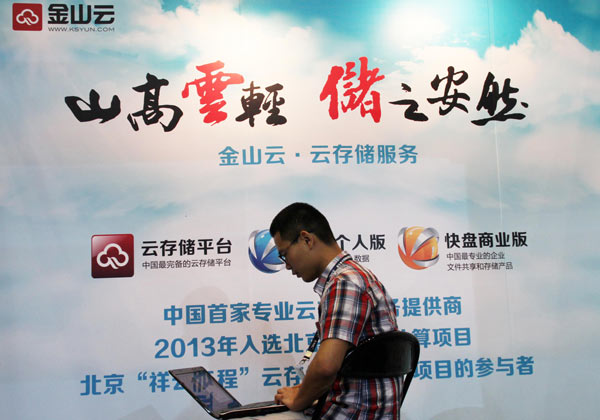 A visitor in front of a Kingsoft Corp Ltd advertisement at a mobile Internet expo in Beijing. The company aims to become the leading player in the fast-growing domestic cloud-computing market.[Photo/China Daily]
CEO says it aims to become the world's 2nd-largest operator after Amazon Web
One of the country's leading antivirus software and Internet services companies is aiming to lead the ever-growing domestic cloud-computing market, after experiencing dramatic growth since launching its cloud operations in 2012.
Zhang Hongjiang, chief executive officer of Kingsoft Corp Ltd, said its Kingsoft Cloud offshoot also has its sights firmly on becoming second globally, behind Amazon Web Services Inc, the world's largest cloud provider.
Kingsoft Cloud has maintained annual growth of around 80 percent in its first three years, and during the second half of last year, the growth soared to 300 percent, after receiving a new round of funding worth $67 million in March.
The company has also been assured of 1 billion yuan ($153 million) in investment by Kingsoft's group Chairman Lei Jun over the next three years, Zhang said, which gives him full confidence of achieving and maintaining a market leader in China.
When Kingsoft first embarked on developing cloud services, Zhang said, it planned to focus on developing infrastructure rather than software.
But as the market has developed, more firms have started targeting the former.
"The timing for us to enter the industry was just right," said Zhang, the former chief technology officer at Microsoft China R&D Group and managing director of Microsoft Advanced Technology Center, before joining Kingsoft in 2011.
"The first layer of companies has now formed, meaning it is very difficult for newly established firms to enter the cloud-computing industry right now, especially those wanting to focus on infrastructure, which is expensive and highly technical."
Zhang said Kingsoft entered the digital gaming industry in 2014. Last year it expanded into the online video industry too, which helped push that impressive H2 growth.
Zhang puts the business's success down to overcoming three major barriers: technology, scale and service quality. With its processes firmly in place, it is now moving into other areas of cloud services, such as medical, government administration and smart cities.
"To apply cloud technologies to such areas, especially traditional industries, we need more efficient system integrators to tailor-make applications using our technology.
"This level of system integration expertise is in short supply in China right now, and developing even more reliable integrators is likely to be our major target in 2016," he said.
Kingsoft Cloud also started looking globally last year, opening two centers in Hong Kong and the United States, which will serve its expansion into Southeast Asia and North America by both sourcing international clients, and finding the best ways to service them.