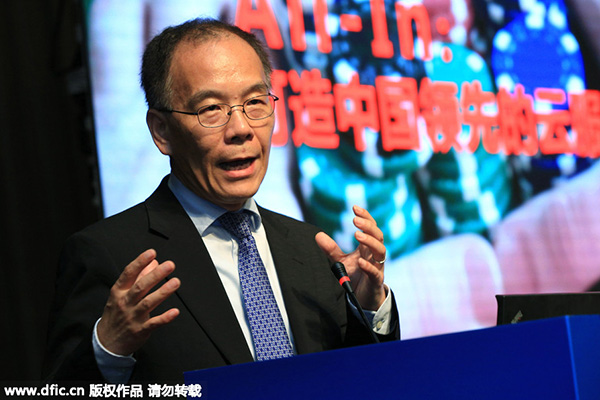 Zhang Hongjiang, chief executive of Kingsoft Corp and Kingsoft Group. [Photo/IC]
Chinese President Xi Jinping's determination to further consolidate Internet infrastructure and boost the industry's development is music to ears of software developers, said Zhang Hongjiang, chief executive of Kingsoft Corp and Kingsoft Group, on Thursday.
Internet infrastructure, including cloud computing and big data, is the cornerstone of smart technologies, said Zhang. "Mobile Internet as well as voice and face recognition technologies which many find quite amazing are all driven by big data and cloud computing."
What Xi underlined (during the opening ceremony of the second World Internet Conference) shows the country's determination to bolster the Internet sector, and "we believe the (Chinese) government will roll out a slew of measures soon," he added.
These measures are expected to echo and boost China's mass innovation and entrepreneurship, as well as the Internet Plus strategy, lubricating the transformation of traditional industries, he noted.
The country put forward the Internet Plus strategy earlier this year in a bid to connect isolated industries and upgrade traditional industries amid nationwide reconstructing and transformation.
China has witnessed a rapid development of its Internet industry over the past two decades. The Internet has profoundly affected almost every facet of Chinese people's lives including communication, transportation, and entertainment.
As of July 2015, the number of Internet users had reached 668 million, the most in the world, according to official figures. All cities and towns, and 93.5 percent of administrative villages in China now have access to the Internet.
The thriving Internet industry and the gigantic market potential have also bred countless Internet companies, and some of them, such as Baidu, Tencent and Alibaba, have become international goliaths.
Chinese authorities have attached more importance to the Internet, pledging to transform China from a big Internet nation to a great one. The Internet, with better management, will be more open to the world.