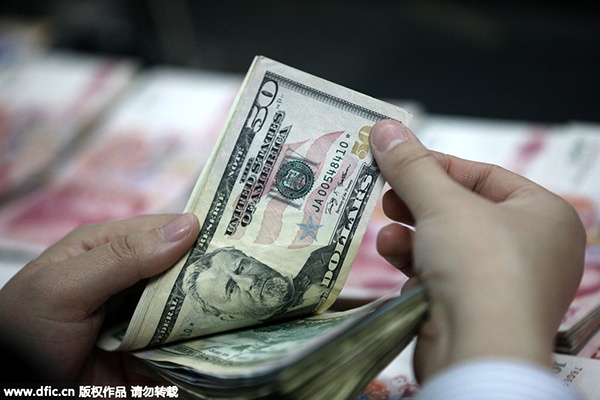 A Chinese clerk counts US dollar and renminbi banknotes at a bank in Huaibei city,East China's Anhui province,Jan 22, 2015. [Photo/IC]
BEIJING - China's foreign exchange reserves posted the sharpest monthly fall on record in December, official data showed Thursday.
Foreign exchange reserves fell to $3.33 trillion at the end of last month, the lowest level in more than three years and down by $108 billion from November, according to the People's Bank of China.
The fall in December extended a month-on-month decline of $87.2 billion registered in November.
The yuan has been heading south since the central bank revamped the foreign exchange mechanism in August to make the rate more market-based.
The yuan has been losing ground as the Chinese economy is expected to register its slowest pace of growth in a quarter of a century in 2015. Meanwhile, the United States raised interest rates in December and more rises are expected in 2016.
The onshore yuan (CNY), traded in the Chinese mainland, declined 4.05 percent against the greenback in 2015.
Li Huiyong, analyst with Shenwan Hongyuan Securities, said the faster decline indicated greater pressure for capital outflow as the yuan depreciated.
On Thursday, the central parity rate of the yuan weakened by 332 basis points to 6.5646 against the dollar, its weakest level in nearly five years, according to the China Foreign Exchange Trading System.
"An appropriate size for China's forex reserves should be around $1.5 trillion. There is still large room for necessary operations to sustain a stable yuan," Li said.