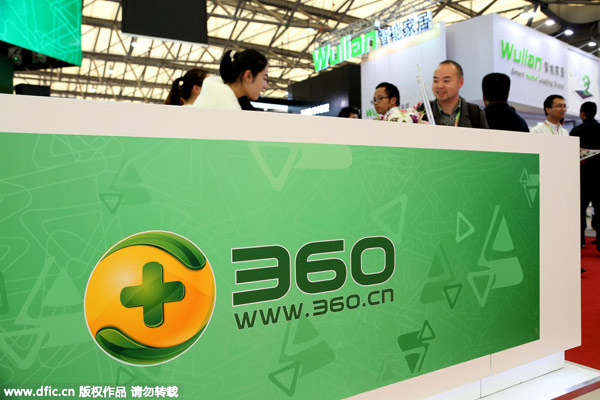 People visit the stand of Qihoo 360 during the 2015 Appliance and Electronics World Expo in Shanghai, Mar 13, 2015. [Photo/IC]
The $9.3 billion buyout of Qihoo 360 Technology Co, owner of China's second-biggest search engine, is the latest sign that mainland companies are renewing their interest in delisting from United States exchanges to sell equity locally at a higher valuation.
The $77 per American depositary receipt offer for Qihoo from an investor group including Ping An Insurance (Group) Co and Sequoia Capital China follows a non-binding agreement initially proposed six months ago. The deal is part of a string of US-listed Chinese companies that have announced privatization offers worth a record $37 billion this year as investors and executives seek to shift listings to the mainland.
While the flow of takeover bids has slowed since June as Chinese stocks fell in a rout that erased as much as $5 trillion of equity value, making a local listing less attractive, they are now coming back after markets stabilized. The buyouts have primarily targeted the US traded stock because they're cheap compared with their Chinese-traded peers.
"People were worried that the Qihoo deal might fall apart because of its gigantic size," Chiheng Tan, an analyst at Granite Point Capital Inc, said from Boston. "But since a deal as big as Qihoo didn't have a problem getting financed, more Chinese companies may follow suit."