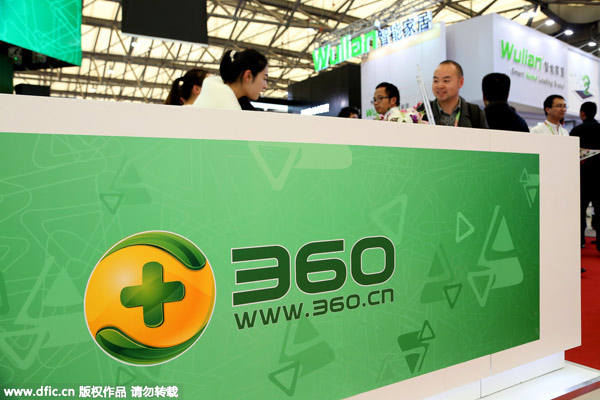 People visit the stand of Qihoo 360 during the 2015 Appliance and Electronics World Expo in Shanghai, Mar 13, 2015. [Photo/IC]
BEIJING - Tech firm Qihoo 360, a leader in Internet security, is looking to increase its foothold in the Internet finance market with a stock market index and a wealth management website.
The 360 Internet Plus index was launched Monday in collaboration with Dacheng Fund and China Securities Index.
Qihoo 360 said it would also roll out an index fund to track 360 Internet Plus.
The index uses data gathered from the company's search engines, browsers, and phone apps.
Of the stocks tracked by the index, 35 percent are listed on the Small and Medium Sized Enterprises Board, and 29 percent are on the ChiNext Index, China's Nasdaq-style board that tracks growth enterprises. The remainder are listed on China's two main boards.
Compared with traditional funds, managers of Internet data funds might change their investment strategies more frequently in response to market changes, Hwabao Securities analyst Li Zhen said.
Wu Haisheng, CEO of 360 Financial, said the company developed the index in response to the higher expectations of investors.
Qihoo 360 said it would soon launch Nicaifu, a website, through which users could buy funds and other wealth management products from partner companies.