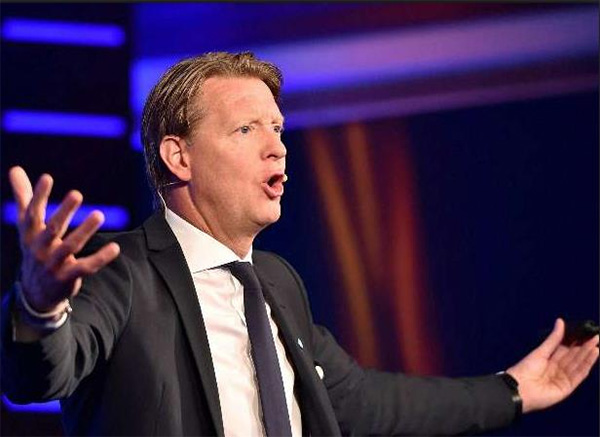 Ericsson President & CEO Hans Vestberg. [File Photo]
Ericsson, the world's largest mobile broadband manufacturer and leader of information and communications technology, reported better than expected third-quarter financial results this year, supported by solid service sales and strong performance in new targeted areas including TV and media, IP and cloud, software and new opportunities emerging in a litany of industrial and societal lines.
Net profit for the three months from June to September hit 3.1 billion SEK, a 19 percent increase year-on-year. Meanwhile, Ericsson's operating margin made quite impressive progress to 8.6 percent, from 5.9 percent in the second quarter. Total sales hit 59.2 billion Swedish krona ($7 billion), growing 3 percent sequentially from 57.6 billion SEK attained in April to June, this year.
Hans Vestberg, president and chief executive officer of Ericsson, said in a statement, "Ericsson's strategic growth initiatives build on a combination of excelling in our core business and establishing leadership in targeted growth areas, as we have seen continuous good progress in the areas which had a sales growth of more than 10 percent year-on-year.
"There is an increased customer interest in future network architecture for 5G, virtualization, efficient video delivery and internet of things (IoT). With our ongoing strategic initiatives, we are well positioned to create value for our customers and shareholders in a transforming market."
As a global pacesetter in mobile communications technology, Ericsson and other market players – Huawei and Nokia-- are investing heavily on 5G, next-generation mobile communications network. In the past years, the world has witness a peak in deployment of 4G LTE (long term evolution) networks. China's three operators, China Mobile, China Unicom, and China Telecom have reported totals in 4G subscriptions of 370 million at the end of September.
Ericsson has a long tradition of collaboration and research on mobile innovations, furthering the long-term development of communication technologies. Ericsson's industry-leading 5G radio test bed demonstrated 5Gbps in 2014 -- a world first -- and the company has commenced outdoor 5G trials and field measurements. The aim is full-scale commercial 5G network deployment by 2020, according to CEO Vestberg.
With its unique experience of leadership in each generation of mobile networks, Ericsson is leads the technology leader and driver of 5G evolution. Ericsson has held the lead co-ordinator role for METIS-I, laying the foundation for 5G, and continues in that role for METIS-II, which leads the development and standardization of 5G.
Vestberg said:, "Iinformation and communications technology can support the transformation of virtually all sectors of society and all industries. I am convinced the next generation of mobile broadband and the internet of things, to be enabled by 5G, will create more and profound opportunities to advance in a string of crucial areas such as health care, education, energy services and agriculture, supported with new industry applications."
Along with Ericsson's executive team, Vestberg is focused focusing on advancing the company's leadership through innovation, technology, professional services and sustainable operational and business solutions. Under his leadership, Ericsson has become the main driver towards the Networked Society, where connectivity is the fuel of industrial transformation and societal progress.