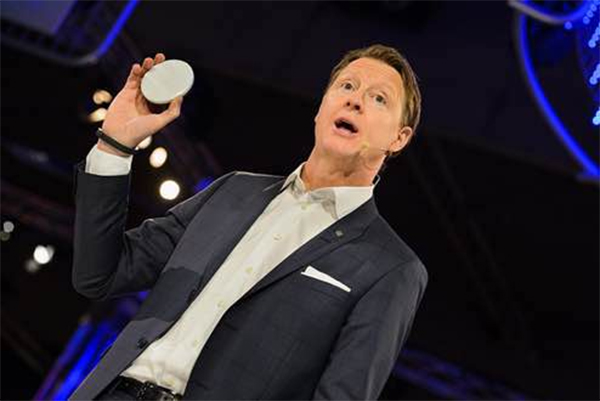 Ericsson President & CEO Hans Vestberg in a file photo. Photo provided to chinadaily.com.cn by Ericsson.
Ericsson, the world's largest mobile broadband maker, has reported a growing sale and operating efficiency in the second quarter of 2015, partially helped with a dynamic market demand for data consumption in China.
The leading ICT vendor made net sales of 60.7 billion SEK(US$7.1 billion), increasing 11 percent year-on-year, or a rise of 13 percentover the first quarter's 53.5 billion SEK.
Among the divisions of Ericsson business, networks, professional services and operating/business support solutions are the bulk contributors, as the vendor's 3G and 4G hard gear are broadly used by global operators. China Mobile, China Telecom and China Unicom – the so-called "Big Three" operators in the country – are all Ericsson's gear and services customers.
Ericsson's relatively weak performance in North America market "was partly offset by an increased pace of 4G deployments in Mainland China", said Hans Vestberg, President and chief executive officer of Ericsson. In addition to China, its sales were strong in the Middle East, India and Southeast Asia, too.
The quarterly operating income, excluding restructuring expenses, has increased by nearly 50 percent, aided by across-the-board improvements in all its business lines.
Like many technology corporations in the world, Ericsson is in the process of implementing a global cost and efficiency plan too –targeting at saving 9 billion SEK from 2014 to the end of 2017. That savings are expected to give Ericsson a financial boost when the rainy days come. Rollout of 4G mobile networks is likely to wane in 2016 and 2017, globally.
"Our future growth strategy builds on a combination of excelling in our core business and establishing leadership in targeted areas –IP, cloud, OSS/BSS, industry and society," said Vestberg. "We have seen good progress in all the targeted areas and sales continued its strong development from the first quarter."
Earlier, Ericsson said that it will spearhead 5G development as the coordinator of Europe's METIS-II project to design and develop 5G radio system and work out a roadmap recommendation plan for 5G standardization.
On a strategic level, METIS-II will provide a mechanism to facilitate global 5G standards. The project has a rather strong international consortium consisting 23 partners from EU, the US, China, Japan, South Korea and elsewhere, encompassing major international vendors, majoroperators and key 5G researchers.