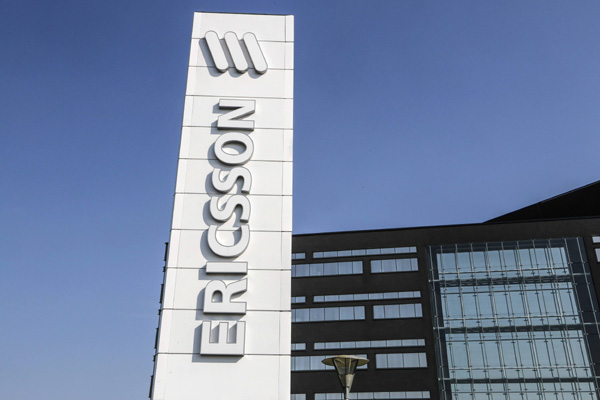 A general view of an office of Swedish telecom giant Ericsson is seen in Lund, September 18, 2014. [Photo/Agencies]
Global telecom manufacturing giant Ericsson remained resilient despite large patches of economic slowdown around the globe, by reporting a solid $1.68 billion in net income last year.
The company, together with China's Huawei, is a major supplier of fast mobile broadband that facilitates a blossom of new mobile business – online commerce, online social community and a flurry of other models.
Ericsson is also a major vendor contributing to 3G and 4G infrastructure build-up in China, supplying equipment and technology to China Mobile, China Unicom and China Telecom.
Ericsson's sales were strong in Asia, the Middle East and Europe, but it said business in North America will remain sluggish with telecom operators there saving cash for more spectrum auctions later. Ericsson has anticipated the North American mobile broadband business to remain slow in the short-term.
"We will continue to proactively identify efficiency opportunities. Ericsson's cost and efficiency program, with the ambition to achieve savings of approximately 9 billion SEK, with full effect during 2017, is progressing well," said Hans Vestberg, president and CEO of Ericsson.
Last year, Ericsson made an end to its traditional chipset-making business, after terminating a handset joint venture with Sony in 2009.
Total sales of Ericsson hit 228 billion SEK ($35 billion), flat with the year earlier, adjusted for comparable units and currency factors.
Telecom services showed stable growth driven by managed services and systems integration sales. In Q4 2014 alone, Ericsson signed 17 new managed services contracts with a variety of major operators.
In 2015, Ericsson is said to continue its progress on the Networked Society strategy, focusing on market growth agenda, industrial transformation and corporate profitability.
"In line with our strategy, we have invested into our targeted areas -- IP networks, cloud, TV & media, industry & society and OSS & BSS. Sales in targeted areas showed a growth of more than 10 percent in 2014, " said Hans Vestberg.