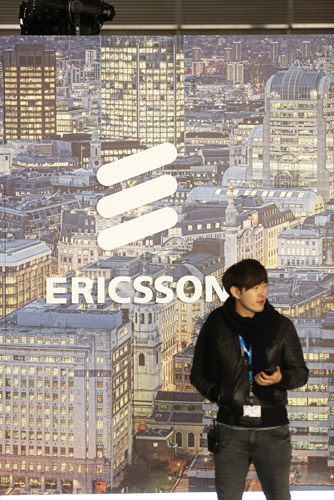 Ericsson AB's pavilion at the Mobile World Congress in Barcelona, Spain, in February, 2013. Analysts say the company's latest move to buy Microsoft Corp's Mediaroom will help Ericsson further explore the Chinese market. [Provided to China Daily]
Swedish information and communications technology giant Ericsson has achieved speeds of 5Gbps in live lab demonstrations of its pre-standard 5G network technology, the fastest wireless speed ever attained in the industry.
Leading executives from two Asian telecom operators, NTT Docomo and SK Telecom, were recently invited to Ericsson headquarters and witnessed the 5G test at an Ericsson lab in Kista, Sweden.
The Ericsson Mobility Report released in June forecasts that 85 percent of North American mobile subscriptions will be LTE by 2019. The high penetration of LTE indicates that North America could be one of the first regions to adopt 5G. At the same time, Japan and South Korea are also likely to benefit from early 5G availability with trials already announced by NTT Docomo and SK Telecom.
Johan Wibergh, head of Business Unit Networks, said: "5G will impact both the access and core of mobile networks so we are working closely with leading operators to ensure a practical and proactive evolution. The development of advanced radio technologies is one of the first critical steps in the realization of a 5G future."
The live demonstration employs an innovative new radio interface concept and advanced Multiple-Input Multiple-Output (MIMO) technology to achieve the record-breaking speeds. Ericsson's 5G network development activity includes new antenna technologies with wider bandwidths, higher frequencies and shorter transmission time intervals.
With faster speeds, low latency and better performance in highly dense areas, 5G represents an evolution of the user experience. It will also enable new device-to-device and M2M applications that will impact consumers. Though 5G standards are still in early development and new spectrum allocations are still to be considered, Ericsson's live demonstrations are a clear reflection of the company's technology leadership.