Huawei has eye on 5G
Updated: 2013-11-07 00:34
Telecom vendor investing in faster network
Chinese telecom equipment vendor Huawei Technologies Co Ltd announced on Wednesday that it will invest at least $600 million in research and development of fifth-generation mobile technology by 2018.
Huawei's move is part of a global trend that involves major telecom companies moving into 5G technology development as early as possible.
In May, South Korea-based Samsung Electronics Co Ltd said that it successfully tested super-fast 5G technology that allows users to download a film in just a few seconds.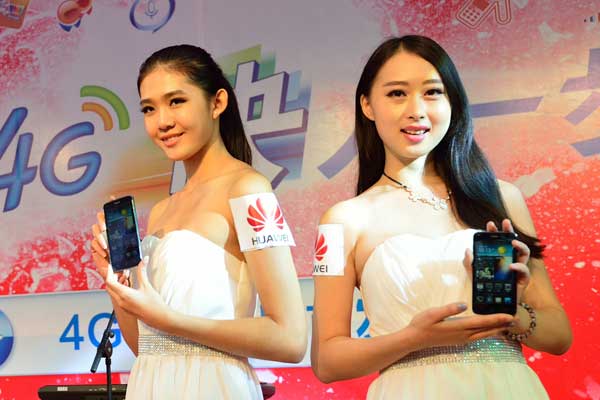 Models display Huawei Technologies Co's 4G smartphones in Hangzhou, Zhejiang province. The company invested $4.8 billion in R&D in 2012, and it's now moving into 5G equipment.[XU YAN / FOR CHINA DAILY]
The Shenzhen-based Huawei expects that the first 5G networks will be ready for commercial deployment starting in 2020, according to a company statement.
The technology will deliver peak data rates of more than 10 gigabits per second, or 100 times the speed of current 4G networks.
"5G mobile networks can provide a true-to-life video communications experience," said Eric Xu, rotating chief executive officer of Huawei.
Xu said that innovation is a continuous journey.
"While we continue to evolve our existing 4G network capabilities, we plan to invest in 5G technology to ensure that we meet consumers' demands for faster and better connections," he said.
Huawei began investing in 5G in 2009. So far, it's participated in the European Union's 5G research projects, helped establish the 5G Innovation Center in Britain and participated in joint research programs with more than 20 universities around the world.
"It's mandatory for Huawei to be more involved in 5G technology. Although an investment of $600 million over the next five years is not huge, it still demonstrates Huawei's determination to be part of the game," said Zhao Hailin, telecom analyst with research firm IHS iSuppli.