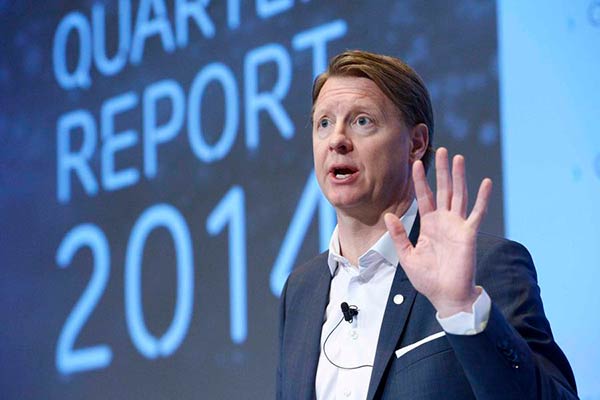 Ericsson CEO Hans Vestberg speaks during a news conference at the company's headquarter in Stockholm April 23, 2014. [Photo / Agencies]
Ericsson showcased its mobile internet technology and applications for more efficient, intelligent transmissions in the future for a networking society on Thursday.
At a demonstration of its 5G, it reached a peek speed of 5.8-Gbps, using its pre-standard 5G network technology, which it believes will meet the needs of the next generation of machine-to-machine (M2M) applications.
Ericsson demonstrated three technologies -- TD-LTE and LTE FDD carrier aggregation, LTE FDD three-band carrier aggregation, and HSPA pilot frequency three-band carrier aggregation -- based on China Unicom's commercial network and terminals, to improve network coverage and spectrum effectiveness of mobile operators.
It also displayed its DACC technology, a new form of data compression, which allows a smart cell phone, on an HSUPA carrier frequency, to upload data far faster than its theoretical limit of 5.76-Mbps.
Because of its close cooperation with China Unicom, Ericsson expects to keep on exploring advanced network technology for an innovative networking society here.