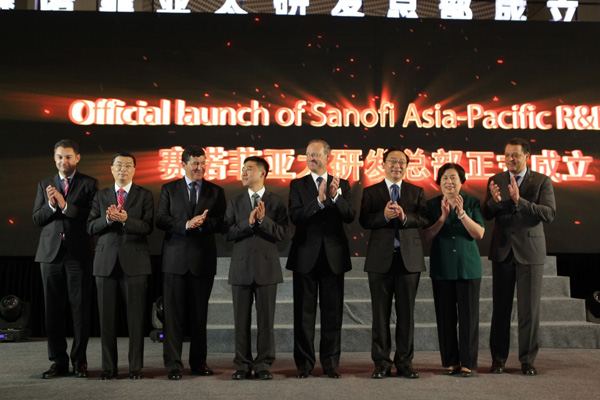 The Sanofi Asia Pacific R&D Hub launching ceremony holds in Shanghai on September 25, 2014.[Provided to chinadaily.com.cn]
The French pharmaceutical company Sanofi launched its first integrated Asia Pacific research and development Hub in Shanghai on Thursday, a move designed to accelerate the region's innovation capabilities and strengthen local scientific network.
The new Asia Pacific R&D hub brings together 12 countries in the Asia Pacific region and will combine their capabilities across fields such as biopharmaceuticals, rare diseases, vaccines and animal health. The hub will play a key role in accelerating regions development of innovations by maximizing synergies with partners both inside and outside the organization, the company said.
"Asia Pacific plays an important role in Sanofi's global R and D strategy and the new hub will help transform R&D and ensure sustainable growth in the coming years," said Dr. Elias Zerhouni, President of Global R&D, Sanofi. "By strengthening our scientific network, we can now tap into the best scientific resources here while enabling greater regional access to global R&D assets. We plan to bring all projects in our global R&D pipeline to the region as quickly as possible to drive forward scientific discoveries guided by patient needs."
Sanofi also announced partnerships with The GPCR Institute and ZAI Lab. The partnerships will focus on diabetes and chronic respiratory diseases research respectively, two medical areas growing at alarming rates across the Asia Pacific region.
"With global diabetes sufferers expected to increase to 592 million before 2035, and the rates in Asia Pacific region set to soar, I am confident that our partnership with The GPCR Institute will combine our strengths and insights and bring us one step closer to a breakthrough in treatment benefiting regional and global diabetes patients," said Dr. Frank Jiang vice-president and head of the new Sanofi Asia-Pacific R&D Hub.
In the field of diabetes research, Sanofi introduced its top-selling insulin drug, Lantus into the Chinese market in 2004. Last month, Sanofi China started a large-scale clinical research project for basal insulin called BEYOND. The five-year project's aim is to develop a deep understanding of Chinese patients and their treatment demands. The results will support doctors with better information regarding the application of basal insulin and help patients receive better treatment.