While many college graduates are struggling to find a job, employers are lining up at Shandong Lanxiang Senior Technical School eagerly waiting to recruit the latest batch of graduates. The school, located in Jinan Shandong province, is one of the largest technical schools in China.
Over 30000 students from all over China currently attend Shandong Lanxiang Senior Technical School. They are studying over 60 different courses. 85% students are come from rural areas, most them lack financial or academic mean to go to college. By attending a technical school, they can master a skill to secure a employment in a tough job market. The school offers comprehensive technical training courses in fields from auto repair to pastry making.
The old stereotype in China is that graduates from technical schools can only work blue collar jobs and make less money than college graduates working white collar jobs. Many Chinese parents take pride in sending their children to college and think technical school is the only choice for those who failed the college exam.
The change in labor structures have caused a shift in demand in the job market, skilled laborers are scarce. In today's job market, a skilled welder is more difficult to find than a college graduate and starting salary for skilled laborers is higher than those for college graduates.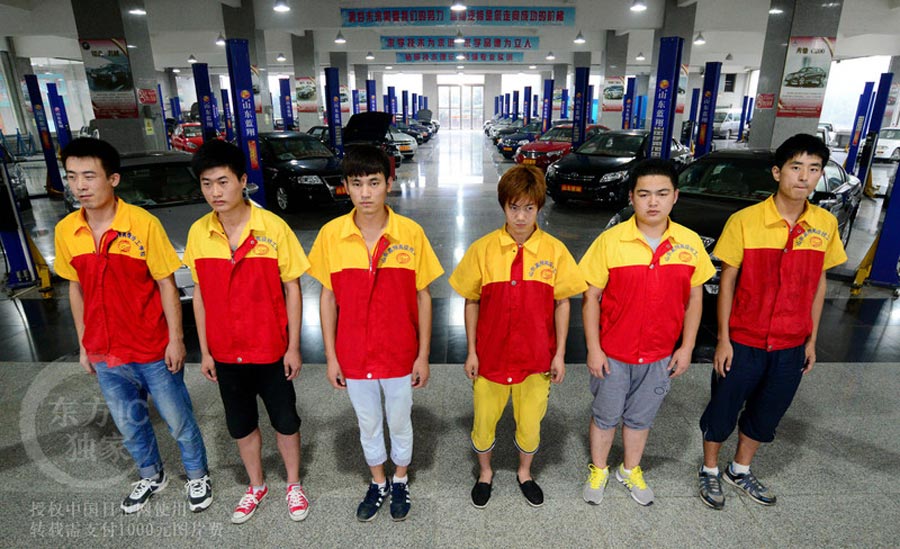 A group of auto repair students pose inline in front of the school's auto repair garage, July 24, 2014. [Photo/IC]