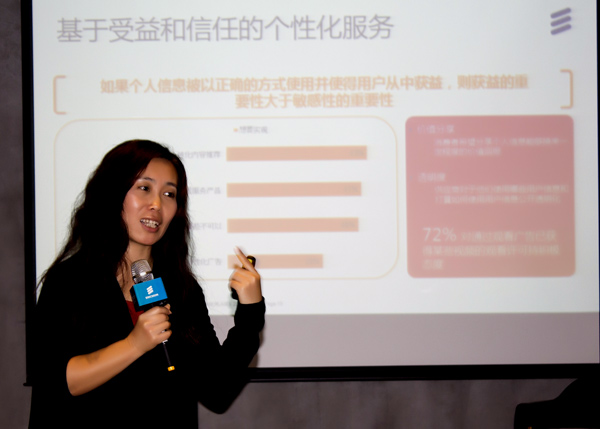 Xu Xiaoli, Northeast Asia Regional Director of Ericsson Consumer Lab, delivers a speech at a press conference on Oct 21, 2014 in
Beijing
. [Photo provided to chinadaily.com.cn]
Viewing habits of video audiences have gone through such a revolution due to technology that they now challenge traditional TV.
Smartphones, tablets, PCs and even smart televisions have stepped into people's daily life. Binge-viewing, a phrase that used to describe incessantly watching video programs on TV, has expanded to streaming video platform in such a multi-screen world.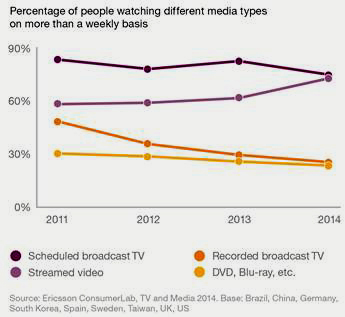 Streaming video is now almost on par with traditional TV watching, with 75 percent of consumers watching streamed content several times a week, compared to 77 percent who watch scheduled broadcast TV programming several times a week, said an Ericsson Consumer Insight Summary Report released by Ericsson Consumer Lab in September this year.
According to the report, called "streaming closing in on traditional TV as users want 'anywhere access'", consumers are increasingly using different terminals to watch videos. The weekly proportion of users that watches streaming media has gone far beyond those who only watch traditional broadcast television. Nineteen percent of Chinese urban users said at least once a day they were at different terminals to switch between viewing video content.
"The drawbacks of traditional broadcast television, such as inflexible timing or unable to replay programs, will directly affect the user's media consumption experience, and lead them to reduce or even disconnect the radio and television services," said Xu Xiaoli, Northeast Asia Regional Director of Ericsson Consumer Lab.
According to Xu, the biggest slump in daily TV consumption habits has occurred at the young generation aged between 20 to 24 years old living in cities, from 63 percent in 2012 to 35 percent in 2014.
The study also showed a rise in the amount of time spent watching content on smartphones and tablet devices.
While 41 percent of consumers expressed a desire to be able to watch their favorite shows anywhere, there were two major barriers to this: the cost of data traffic and the cost of the content itself.
"The landscape is changing rapidly, and business and delivery models will have to keep up with that pace of change if they are to continue to deliver perceived value to consumers," said Niklas Heyman Rönnblom, Senior Advisor at Ericsson Consumer Lab.
The report is based on 23,000 online interviews with broadband users in Brazil, Canada, Chile, China, France, Germany, Greece, Indonesia, Ireland, Italy, Malaysia, Mexico, Portugal, Russia, Singapore, Spain, South Korea, Sweden, Taiwan, Turkey, United Arab Emirates, the UK and the US.
Almost all respondents use the Internet on a daily basis. The results of this study represent the views of more than 620 million people.
This data was complemented with 22 in-depth interviews with consumers in San Francisco, London and Stockholm, as well as 11 interviews with media industry professionals.