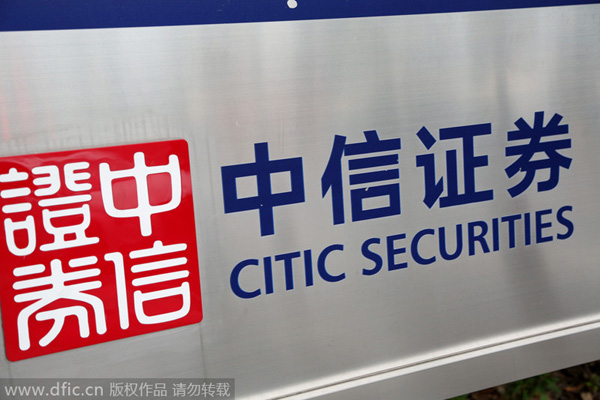 View of a signboard of Citic Securities in Shanghai, China, Sept 22, 2014. [Photo/IC]
BEIJING - China's biggest brokerage firm CITIC Securities saw its net profit skyrocket in 2014, surging 115 percent from 2013.
With a net profit of 11.29 billion yuan ($1.81 billion), the company registered business revenue of 29.51 billion yuan, according to a statement it filed to the Shanghai Stock Exchange on Tuesday.
The revenue was a 83.13 percent increase from 2013, said the company.
It attributed the profit and revenue boom to dynamic securities market, climbing stock prices and mushrooming turnover.
The benchmark Shanghai Composite Index climbed by more than 60 percent in 2014, thanks to government efforts to reignite the capital market and monetary easing policies unveiled in the second half of the year.
The prospering stock market has attracted 120 million traders, according to a survey released by the Shenzhen Stock Exchange earlier Tuesday.
According to the company, in addition to its traditional businesses of brokerage, asset management and underwriting, its booming capital intermediary business also brought new profit growth point.