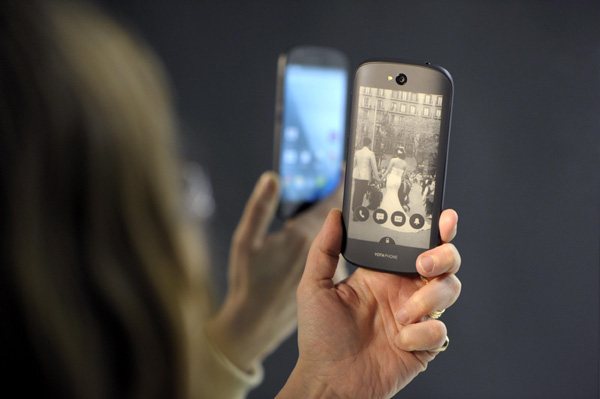 The Yota Phone 2, a double screen Android-based smartphone, is pictured in Helsinki January 29, 2015. [Photo/Agencies]
On Thursday, Hong Kong-based investment company REX Global Entertainment Holdings Ltd purchased 64.9 percent shares of Russian smartphone maker Yota Devices.
Vladislav Martynov, CEO of Yota Devices, said, "Yota Devices has been looking for investors for over a year. REX Global has been actively looking for an opportunity to enter the smartphone market. Yota provides the Hong Kong firm with the opportunity to do just that."
Under the terms of the agreement, REX Global will invest $50 million in Yota. The money will be used to provide capital for the product line and develop the next generation of YotaPhone.
According to a memo released to the press by Yota, the deal is likely to help the Russian company expand into China and Southeast Asia markets.
REX Global said it acquired the shares from Telconet Capital Limited Partnership. The remaining shares will be owned by the Russian state corporation Rostec (25.1 percent) and Yota management (10 percent).
Last November, Russian president Vladimir Putin presented the Russian-designed, Chinese-manufactured YotaPhone2 to President Xi Jinping as a symbol of cooperation in the field of consumer electronics between Russia and China.
On September 15, the company signed cooperation agreements with a Shenzhen ZTE Supply Chain Co Ltd (ZTESC), an associate company of Chinese tech giant ZTE Corporation, and Shenzhen X&F Technology Co Ltd, an ODM that focuses on terminal products in the field of communications.
"The next generation of Yota Phone will come with a high-end performance and a reasonable price," said Martynov. He told chinadaily.com.cn that features such as larger screen and better camera are some of the functions to be improved in the next generation.
He claimed that the price will be slightly cheaper than the existing YotaPhone 2, which is 4,888 yuan ($799).
REX Global Entertainment Holdings Ltd is an investment holding company listed on the main board of The Stock Exchange of Hong Kong Limited.