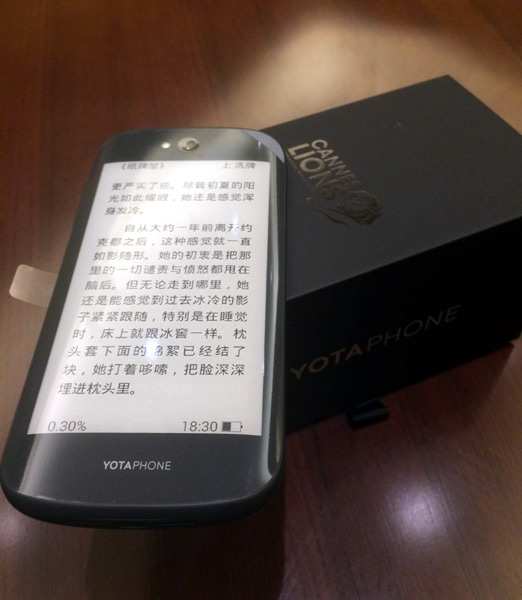 Photo taken on March 28, 2015 shows a Yota Phone 2 is displayed in a press meeting at the Boao Forum for Asia Annual Conference held in Hainan province. [Gao Yuan/chinadaily.com.cn]
Yota Devices, the developer of YotaPhone, the world's first dual screen smartphone with an always on e-ink display, announced a joint venture with domestic firm JieLan Ltd to promote, sell and provide customer service for YotaPhone in China on Saturday in Hainan province, during the ongoing 2015 Boao Forum for Asia.
According to a news statement from Yota, a special version of YotaPhone 2 supporting local LTE frequencies will be available in Q2 in China.
In Nov 2014 Russian president Vladimir Putin presented the Russian-designed and Chinese-manufactured YotaPhone to President Xi Jinping as the symbol of cooperation between Russia and China in the field of the consumer electronics.
"The Chinese market shows high demand and interest for YotaPhone 2, since the creation, design, and technology of smartphone is truly unique and innovative. That is what attracts Chinese customers, active users of smartphones and people who are open to conceptually new types of devices and gadgets," said Song Xiaodong, CEO of JieLan Ltd.
Due to the second always-on electronic paper display, YotaPhone offers unique and valuable features such as the ability to have basic smartphone functions for up to 3 days on a single charge and ability to use the smartphone in direct sunlight. The e-ink display also provides a comfortable reading experience.
"The high-capacity and fast growing Chinese market is one of the most promising for YotaPhone, especially in light of the development of Russian-Chinese trade and economic relations," said Vladislav Martynov, CEO of Yota Devices.
According to Martynov, the next generation of Yota will be launched in early 2016. He did not estimate the sales target but said the plan was "ambitious".
The Chinese version also includes a preinstalled package of the most popular domestic mobile applications and social apps that have been localized and adapted for the second screen, such as Ireader, Wechat and Sina Weibo.
YotaPhone 2 has two touch displays, one color AMOLED and one black-and-white EPD-display, which uses the technology of electronic ink.
EPD-display consumes significantly less energy than color displays. When using the basic functions of the phone, such as phone calls, SMS, e-mail and word processing with the color display off, users can use the device up to three days without recharging.
EPD-display does not glare in the sun, even in direct sunlight, is less irritating to the eyes and provides a viewing angle of 180 degrees. User notifications are automatically displayed on the always-on the second screen and remain there even if the smartphone battery is fully discharged.
The debut of Yotaphone 2 took place in December last year in Moscow. So far, the device has been sold in more than 22 countries around the world.
Gao Yuan contributed to the story.