CEO Suri to lead combined company in industry's biggest deal since at least 1999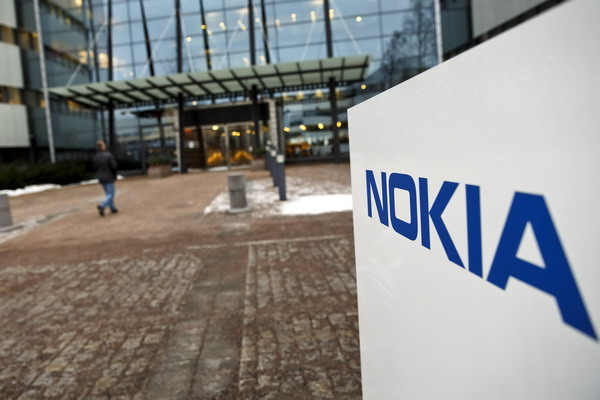 The Nokia company logo is pictured at its headquarters in Espoo January 29, 2015. [Photo / Agencies]
Nokia Oyj agreed to buy Alcatel-Lucent SA in an all-stock deal valued at 15.6 billion euros ($16.6 billion) to create the world's largest supplier of equipment that powers mobile-phone networks.
Alcatel investors will receive 0.55 Nokia shares for each stock they own, the companies said on Wednesday. The price is equivalent to about 4.12 euros based on Nokia's closing price on Tuesday, or 8 percent less than Alcatel's last close in Paris. Alcatel shares soared on Tuesday as the companies said they are in talks.
Nokia's biggest-ever acquisition would result in a company that surpasses Ericsson AB and Huawei Technologies Co in wireless-infrastructure revenue, according to researcher IDC. The deal would allow Chief Executive Officer Rajeev Suri to bolster Nokia's position in China, a market of 1.3 billion mobile subscribers, and take on contracts with the two biggest US carriers-Verizon Communications Inc and AT&T Inc.
Nokia, based in Espoo, Finland, also said it started a strategic review for its HERE maps business. Bids are expected soon for the unit, which is valued by Nokia at about 2 billion euros and has attracted interest from companies and private-equity firms, people familiar with the matter have said.
Shares of Paris-based Alcatel rose 16 percent to 4.48 euros on Tuesday after the company confirmed it's in advanced talks to merge with Nokia. Nokia closed 3.6 percent lower at 7.49 euros on the Helsinki exchange.
The takeover would also let Nokia add products used to transmit landline and Internet traffic, giving it a more complete offering to sell to carriers as the amount of data traveling on networks increases with the popularity of Netflix and other video and music services.
Record deal
The combined company will be called Nokia and led by Suri and chaired by current Nokia Chairman Risto Siilasmaa. Alcatel shareholders will own 33.5 percent of the company and Nokia shareholders 66.5 percent.
If completed, the deal would be the biggest in the industry since at least 1999, when Lucent Technologies Inc bought Ascend Communications Inc for about $21 billion, according to data compiled by Bloomberg.
It would also be comparable to the transaction that created today's Alcatel: the French company's purchase of Lucent in 2006 for $13.4 billion, according to Bloomberg data. The deal would top Nokia's record acquisition of map provider Navteq Corp for about $8 billion in 2008, and would be the biggest-ever by a Finnish company.
Nokia and Alcatel have more than 110,000 workers combined. Suri, who took over as head of Nokia's networks unit in 2009 and became group CEO last year, has revived the equipment business by cutting more than 25,000 jobs over three years and focusing on more lucrative contracts.
While France's government doesn't own a significant stake in Alcatel it is concerned about what will happen to the approximately 7,000 people who work for the company in the country. Suri is in Paris this week to negotiate those details and his itinerary included a meeting with President Francois Hollande.