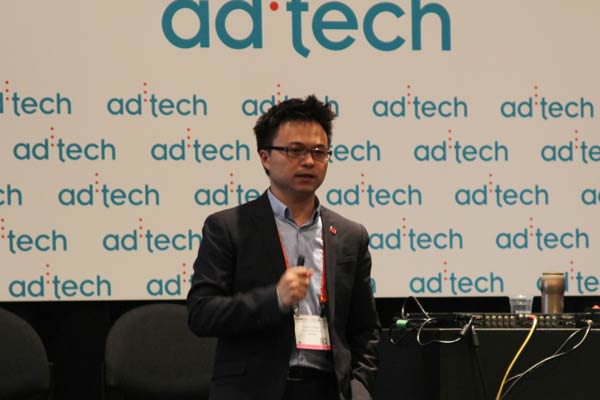 Calvin Chan, chief operating officer of digital data firm AdMaster, speaks at the ad: tech digital conference, New York, Nov 5, 2014. [Provided to chinadaily.com.cn] 
Mobile advertising is the future of marketing in China as increasing numbers of users connect to the Web through cell phones, said Calvin Chan, chief operating officer of data company AdMaster, in New York.
"Mobile is going to change everything," Chan said before speaking at a workshop on how to innovate with digital advertising in China at Manhattan's Javits Center during tad:tech, an annual interactive advertising and technology conference.
"When you move into mobile space, most applications don't work with cookies," he said, referring to small pieces of data sent from websites that are stored in Internet users' Web browsers collecting information about a user's website activity. "You have to evolve your business with mobile".
Based in Beijing with offices in Shanghai and Guangzhou, AdMaster specializes in data collection, analysis and management for advertisers looking to market their products. Its services include providing third party digital advertising verification, measuring social media and e-commerce engagement and managing data compiled from computers and mobile devices
Currently 85 percent of Internet users in China access the Web through smartphones, Chan said, shifting the focus for many advertisers from the traditional television and personal computer model to a mobile one.
"Most people are shifting to only mobile, and that includes people from the countryside or migrant workers. They are people who work in restaurants and you see them when you go to China, they'll be the waiters and during their breaks, they'll be using a knock-off or a real smartphone and they'll watch videos," he said. "So how do you advertise to them? That is critical. I think people in the US are still pretty much looking at television and PC, versus in China where mobile is just so big."
PricewaterhouseCoopers projected in a report released in May that the Chinese mobile advertising market will increase from 12 billion yuan ($2 billion) in 2014 to 25.7 billion yuan ($4.1 billion) in 2017, growing 27 percent a year. That growth is five times higher than in non-digital advertising and "surpasses every other category in online advertising", the UK-based company said.
One area where AdMaster tracks user activity is with video ads, a form that has seen rapidly growing consumption. "The number of video ad impressions purchased in the first and second quarters of 2014 doubled compared to last year, indicating that use of video ads is becoming more widespread," AdMaster said in a report on using big data in China.
Mobile video ads in particular are seeing growth, so much so that the share of mobile ad impressions is overtaking those of computer-based video ads, the company said.
Another facet of marketing to the Chinese Internet user is how many platforms there are for advertisers to consider.
"In the US, you have Facebook and Twitter, and that's about it with social media. With video, there is one dominant name: YouTube," Chan said.
In China, there is a plethora of channels, with multiple social media platforms like Weibo, a Twitter-like service, WeChat, a chat client that also has a built-in social media function, and Renren, a Facebook-like service. China also has multiple video platforms like Youku, Tudou, and Sohu.