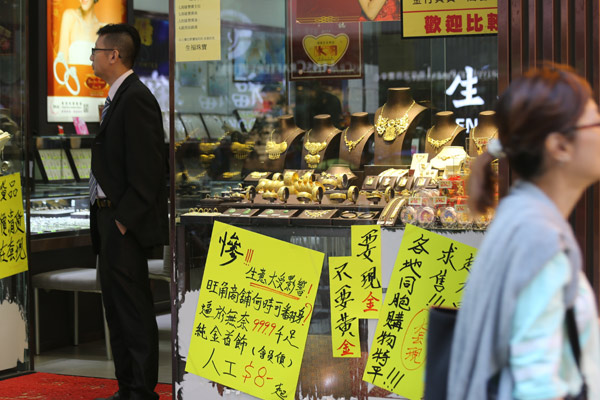 Sale posters outside a jewelry shop on Nathan Road in Hong Kong's Mongkok district. The slowdown in economic activity in Hong Kong deepened in October as orders and output fell at an accelerated pace. [Edmond Tang / China Daily]
Activity in Hong Kong's private sector fell by its biggest margin in three years in October, a private survey showed on Wednesday, offering a first glimpse of the impact the street protests are having on the economy and signaling a further slowdown.
The monthly Purchasing Managers Index in Hong Kong's private sector compiled by HSBC/Markit fell to 47.7 in October, the worst deterioration in operating conditions since September 2011, from 49.8 a month ago.
Sub-indexes measuring new orders and output led the decline with a number of companies surveyed attributing the drop to recent protests that have blocked key roads and hurt business activity for more than a month.
"The slowdown in economic activity in Hong Kong deepened in October as orders and output fell at an accelerated pace," John Zhu, HSBC's economist in Asia, said.
A reading above 50 in the business survey indicates an expansion in activity while one below that threshold points to a contraction.
The dismal data are the first set of figures that factor in the impact of the protests that have rocked the special administrative region.
It is a harbinger for a weak set of retail sales figures for October due to be released next month and will weigh on a slowing economy in the second half of 2014, analysts said.
The numbers also add pressure on government officials to take remedial action as the economy suffers from the protracted street protests even though financial markets and central bank officials have downplayed its impact.
For more than a month, some key roads leading into Hong Kong's most economically and politically important districts have been barricaded with wood and steel by protesters.
Retail sales, which have faced the brunt of the impact, are in for more pain. The sector made up nearly one-quarter of GDP in 2013, up from 13.6 percent in 2002, according to Deutsche Bank.
"If we can achieve flat growth this year, we should all be clapping our hands. I will be very happy if we can still achieve zero growth," Caroline Mak, chairwoman of the Hong Kong Retail Management Association, told a conference call on Monday. "In view of the uncertain factors, I'm pessimistic over the retail sector."
Before the protests kicked off in September, the economy was already slowing thanks to a drop in consumption driven by a decline in tourist spending.
Official forecasts for real GDP growth are between 2 and 3 percent for the full year, compared with 2.9 percent in 2013 though some banks such as Goldman Sachs Group have already cut their growth targets for 2014 anticipating a weak final quarter.
In another sign of how the economy is hurting, private - sector firms reduced staffing levels for the seventh consecutive month in October, and the rate of job losses was the quickest in 16 months.
The PMI survey polls around 300 companies that represent the structure of the Hong Kong economy.