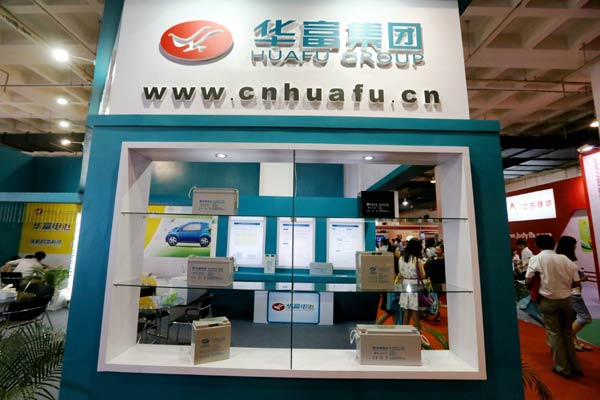 Huafu Group displays its battery products for electric vehicles at a new energy product exhibition in Beijing. China has approved a joint venture that plans to mass-produce nickel-metal hybrid batteries for electric vehicles. CHINA DAILY
The Ministry of Commerce has given conditional approval for a joint venture that plans to mass-produce nickel-metal hybrid batteries for electric vehicles.
The company, to be named Corun PEVE (China) Automotive Battery Co, is co-owned by five Japanese and Chinese enterprises that have deep roots and substantial market share in the hybrid battery market.
The conditional approval was announced by the ministry in a statement on its website on Wednesday, saying the venture may restrict or exclude competition in both the Chinese and the global marketplace for nickel-metal hybrid batteries.
The newly established company will be 41 percent owned by Primearth EV Energy Co, a joint venture between Toyota and Japan's Panasonic Corp.
Two other Toyota units, Toyota Motor China Investment Co and Toyota affiliate Toyota Tsusho Co, will hold 5 percent and 4 percent of the venture, respectively.
The Chinese side holds the remaining 50 percent, with Hunan Corun New Energy, a Shanghai-listed maker of EV batteries, owning 40 percent and Changshu Sinogy Venture Capital Co 10 percent.
The ministry has asked the firm to conform to fair, reasonable and nondiscriminatory business principles by selling its products extensively to third-party buyers.
It also requires the venture to report the execution of the above-mentioned responsibilities to the ministry on a yearly basis.
According to the statement, PEVE, Panasonic, Hunan Corun and Johnson Controls Inc have largely dominated the nickel-metal hybrid market by claiming 97 percent of the market share. The ministry believed such a combination will strengthen the common interest of the bloc, thus curbing the development of other companies.
Toyota runs a major auto parts factory as well as a research and development center. It also imports two hybrid-powered vehicles, the Prius and hybrid Camry, into China.
The Japanese automaker is well-positioned to deploy its hybrid vehicle businesses in China. By assembling batteries locally, Toyota aims to improve the price competitiveness of its hybrid vehicles in China.
China is warming to gasoline-electric hybrid cars as it tackles an addiction to fossil fuels, and domestic carmakers are heeding the call.
Automakers like State-owned SAIC Motor Corp and Brilliance Auto are developing the fuel-saving technology pioneered by Toyota.
BYD Co, a Chinese battery and automaker partly-owned by a Warren Buffett company, plans over the next few years to stop selling gasoline-fueled cars and sell only hybrid and other new-energy cars.