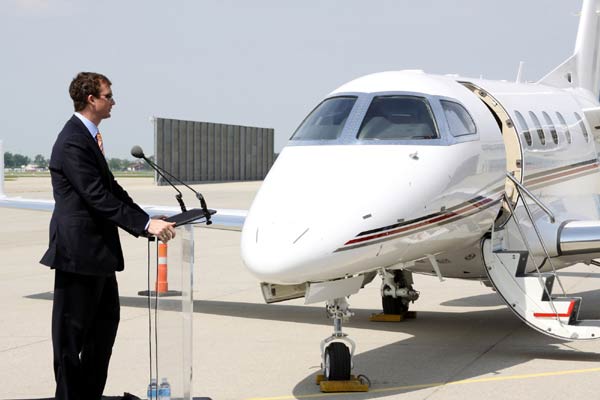 Business-jet specialist NetJets CEO Jordan Hansell speaking at a launch event in Florida. NetJets plans to begin operations in China in August. CHINA DAILY
Fewer than 300 privately owned jets are authorized for flight in China, and in August NetJets, which American billionaire Warren Buffett acquired after being a customer for three years, is looking to become basically an air-taxi service for China's wealthy and corporate customers.
"We firmly believe that China is an important growth market for private aviation," NetJets spokesman Tom Hoyt says.
August is when the subsidiary of Buffett's Berkshire Hathaway Inc is expecting to get final approval for its operating certificate from the Civil Aviation Administration of China, company CEO Jordan Hansell told The Wall Street Journal earlier.
Founded in 1964, the Ohio-based NetJets offers rental of business jets, as well as fractional ownership by which a customer buys a share of a plane rather than the entire aircraft, paying to have the use of a plane each year for certain number of hours.
In addition to offering fractional ownership of a jet and charter services, the company will manage aircraft for individual owners and companies, providing such services as hangaring, maintenance, insurance and cleaning, NetJets says.
In 2012, NetJets launched a Chinese joint venture, the NetJets China Business Aviation Ltd, with Chinese investors Hony Jinsi Investment Management (Beijing) and Fung Investments.
The joint venture allows NetJets to provide charter service and aircraft management in China.
Plane manufacturers and others are seeking entry into China, which is steadily growing while still small compared to those in developed economies like the United States.
"I think that interest has really begun to increase as China has been emerging as a global economic center," says Dan Hubbard, a spokesman for Washington-based National Business Aviation Association, an industry organization representing aviation companies.
"Cities like Shanghai are now starting to take their place alongside other financial centers, like London or New York or Geneva, and as that progression has been happening, you see the progression in business aviation tracking that growth," he says.