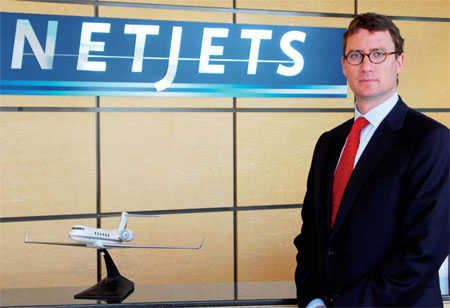 Jordan Hansell, chairman and CEO of NetJets, says China has the potential to grow into the company's largest market. [Provided to China Daily]
Private jet firms chart lucrative course for china
The billionaire US investor Warren Buffett is famous for betting on companies that are unloved and undervalued. But in China he has just invested in an industry widely regarded as one of the world's most promising: private aviation.
NetJets, the world's largest provider of private jet fractional ownership and leasing, owned by Buffett's Berkshire Hathaway, has launched a private-jet travel card tailor-made for China-based travelers as an entry point into China's rapidly developing luxury air travel market.
"The United States is our largest market," says Jordan Hansell, chairman and CEO of NetJets of Ohio. "But China certainly has the potential to grow into the largest market for us in the future."
The 25-hour flying card, which costs $360,000 (274,000 euros), was created specifically for China. With the card at hand, any China-based traveler can give the company 10 hours' notice and fly with NetJets from China to Europe or to the US or choose to enjoy the company's charter service while traveling within Europe or the US.
"The price is not significantly different, but some terms are," Hansell says. "We call it global card. You can use it both in the US or Europe. Usually with us, you need to buy a card for traveling in the US and a card for traveling in Europe."
However, for NetJets, expansion in China does not end with travel cards. The company, which Buffett bought in 1998, announced in March that it would set up a joint venture in China with a consortium of Chinese investors led by Fung Investments of Hong Kong, part of the private investment arm of the families of Victor Fung and William Fung, and by a unit of the private-equity fund Hony Capital of Beijing.
The joint venture, NetJets China Business Aviation Limited, is based in Zhuhai on the southern coast of Guangdong province and is the company's newest member after NetJets USA and NetJets Europe.
Having got the travel-card business up and flying, the company is now seeking approval from the Civil Aviation Administration of China to offer charter-flight operations and aircraft management services inside China.
Many people in China are well aware of business jets, but few have had experience with them, Hansell says. "Since we are about to open business here and we haven't marketed here before, we think the new card can be a good first step for us."
He refuses to divulge how big his company's investment in NetJets China is, but says the venture has made significant progress since March. That includes receiving a licence from the CAAC in September and hiring eight executives, meaning the company can continue recruiting, with a goal of having final approval by the last quarter of next year.
Though the company has flown in 172 countries, Hansell says it is in China for the domestic charter market rather than for international business.
"We've noticed China's wealthy businessmen are more and more global, but our focus here is still China's domestic market," he says.
In the long term, about 75 percent of NetJets' business in China, both charter business and private-jet management services, is projected to come from its domestic market, it says.
The business-jet market remains small in China, in part because such flying has been limited by the large tracts of airspace reserved for the military and rapid commercial-airline growth.
There are about 180 registered business jets in the mainland, Hong Kong and Macao; NetJets says it has about 750 business jets, and there are reckoned to be 15,000 in the US.
Hansell, who initially led the company's China push after being elevated from president to become NetJets' chief executive officer last year, says Western markets are well developed, while the Chinese market has phenomenal growth potential, especially given the government decision to liberalize airspace and to push the development of general aviation.
In 2010 China selected aviation as one of the strategic industries to develop in the 12th Five-Year Plan (2011-15). But little detail was given until July this year, when the State Council issued guidelines for the development of the civil aviation industry. It has estimated that flying time in general aviation will increase by an average of 19 percent a year to reach 2 million hours in 2020.
In addition, China's top economic planning body, the National Development and Reform Commission, has announced that it plans to further relax the country's ban on low-altitude airspace for private use, which aviation analysts see as an encouraging sign.
"The market in China has some similar characteristics with the US," Hansell says.
"It is big and geographically diverse. It has been developing into an enormous economy, and the world is increasingly focusing on China. With the Chinese government's plan to further develop central and western China, in which there is a lack of basic infrastructure, more and more businessmen will need service providers like us.
"For all of these reasons we think China can become as big a market for private aviation as the US is today, or even bigger."
The company reported pre-tax profit of $227 million last year, and about 80 percent of its revenue is from North America.
The potentially large Chinese market has attracted not only NetJets but other companies in China and abroad. Global Jet Concept of Geneva, an executive-jet charter and personalized travel service, teamed up with Shaanxi Jinggong General Aviation Co of Xi'an to enter the Chinese market last year.
David Mezenen, Global Jet's chief representative in China, says the company has been in the flight-charter business in China for six years, mainly providing services to business people and government officials traveling outside the country.
"Our business generated by China-based travelers has been increasing 15 percent to 20 percent annually over the past six years, and we also sell four to five aircraft to Chinese customers every year," he says.
Though no official forecasts are available, many industry insiders say that China will have 1,000 business jets by 2020. What is proving particularly enticing for many companies is the prospect of hefty management fees to maintain, schedule and operate those aircraft.
The CAAC says that by the end of last year there were nine registered air charter services in the country. This year 50 more companies have been registered with the CAAC or are waiting for approval.
Mezenen says competition and consolidation are unavoidable and that many companies that lack financial support and experience will disappear.
However, NetJets, founded in 1986 and which has just spent more than $17.6 billion buying business jets to replace its old fleet, sees only blue skies ahead.
It is exciting to be in the industry in China, Hansell says. "It is new, so it will suffer from some growing pains, but we think it is going to be a good market."
mengjing@chinadaily.com.cn