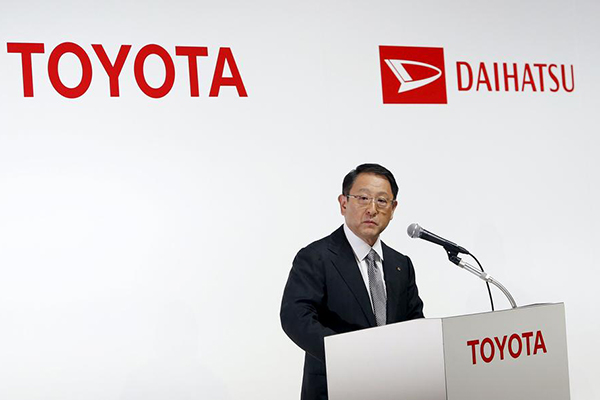 Toyota Motor Corp President Akio Toyoda speaks during a joint news conference with Daihatsu Motor Co President Masanori Mitsui in Tokyo, Japan, January 29, 2016. [Photo/Agencies]
Toyota is in danger of losing its crown as the world's biggest automaker this year, as its sales fall behind those of German rival Volkswagen, new figures showed on Thursday.
The Japanese giant, which has held the title for four years in a row, was outsold by Volkswagen in the first half of the year, as key North American sales fell and disaster-linked factory stoppages hit production.
The maker of Camry and Prius sold 4.99 million vehicles worldwide in the six months through June, edging down from a year earlier.
Volkswagen sold 5.12 million vehicles globally in the same period. Third-place General Motors sold 4.76 million vehicles.
The German automaker had pulled ahead of Toyota in the first half of 2015 as well, until a massive emissions cheating scandal dented sales.
This year, Toyota saw first-half unit sales fall in North America, a key market, while US sales of its popular Prius hybrid fell by about 25 percent.
The company was also hit by plant shutdowns linked to deadly earthquakes in Japan earlier this year.
Toyota previously warned that its annual net profit will fall, as a stronger yen and a slowdown in the Chinese and other emerging markets dent its bottom line.
Toyota, among other major automakers, has also been struggling to recover a reputation for safety after the recall of millions of cars around the world for various problems, including an air bag crisis at supplier Takata.
In 2008, Toyota broke GM's decadeslong reign as the world's top automaker. It lost the crown three years later as Japan's 2011 earthquake-tsunami disaster hammered production and disrupted the supply chains of the country's automakers.
Agence France Press