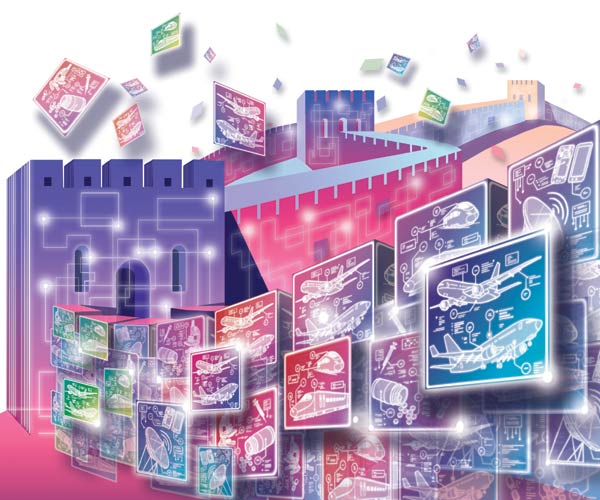 LI MIN/CHINA DAILY
A number of Chinese companies beginning to make breakthroughs
Is China about to lead the world as an innovator again?
The world's second-largest economy invented gunpowder, the compass, printing and papermaking, but has fallen behind not just in recent decades but for most of the last two centuries.
After reform and opening-up in the late 1970s, China became the workshop of the world, mainly through low cost original equipment manufacturing.
Now, however, as China's economy starts to slow and wages rise, there are greater incentives for Chinese companies to innovate to improve profitability by greater productivity.
Although China's investment in R&D is still just 38 percent of that of the United States, according to the China
Europe
International Business School, a number of Chinese companies are now beginning to make breakthroughs.
Ninety-three Chinese companies are now in the top 2,000 global companies in terms of R&D intensity (R&D spending as a percentage of sales), ranked by the EU Industrial R&D Investments scoreboard in 2012.
While this is fewer than the 658 from the US, 527 from the European Union and 353 from Japan, it represents significant progress.
Huawei Technologies Co Ltd, the telecommunications giant, is the highest-ranked Chinese company-31 in terms of spending, investing some $3.5 billion on research, almost a quarter of its total sales.
PetroChina Co Ltd, the State-owned oil company (66) and another telecommunications company, ZTE Corp (94), make the top 100. In fact, ZTE made the most patent applications by any company in the world in 2012.
Many Chinese companies are acquiring technology through acquisitions with high profile deals such as computer giant Lenovo Group Ltd buying the Motorola handset division from Google Inc this year for $2.91 billion.
Chinese companies are also snapping up R&D facilities in the US and Europe. There have been several acquisitions of German small and medium-sized businesses in engineering and manufacturing technologies.
Many expect this to be a significant trend in the next decade. Much of the progress has been in line with the Chinese government's Five-Year Plan (2011-15), which places emphasis on achieving breakthroughs in areas such as integrated circuits, space research and nanotechnology.