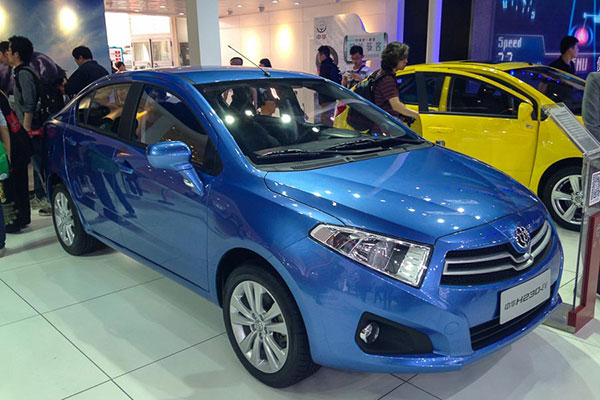 A Zhonghua H230 EV electric car is pictured on April 22, 2014 in Beijing at the on-going Beijing International Automoive Exhibition. [Zhang Jie / chinadaily.com.cn]
With air pollution worsening and oil imports rising, partly thanks to the remarkable auto boom of the last decade, China sorely needs to find a way to reduce vehicle emissions if it is to keep its auto industry growing. Yet the government's plans to develop the market for new energy vehicles (NEVs) and electric vehicles (EVs) are making frustratingly slow progress. Although several carmakers have begun to market and sell such vehicles, helped by subsidies, sales are still very low.
The country is hardly alone in that. In 2010, when China announced its plans to promote NEVs under its five-year-plan for 2011-15, it set a target of putting 5 million such vehicles on the road by 2020. Not long afterwards, the US president,
Barack Obama
, set his aim at putting 1 million electric vehicles on US roads by 2015. Germany soon followed up with a 1 million target by 2020. Yet all three nations are falling far short of those targets, with China even likely to miss its scaled-back target of 1 million vehicles.
Admittedly, NEV and EV sales are rising worldwide, quite rapidly. Last year electric carsales in China rose by 37.9 percent year on year, according to CAAM. But that still brought the tally to just 17,642 units, of which 14,604 were all-electric models, while the rest were hybrids (and therefore not strictly speaking NEVs). Germany saw EV sales rise by more than 100 percent in 2013, according to the German Federal Motor Transport Authority, but that was to just 6,051 units. Sales of hybrids are strong over 3 million have been sold in the US to date, and they are among the most popular cars in Japan, but fully electric vehicles have simply not taken off.
And this is despite generous subsidies in many countries. The US offers a $7,500 point-of-sale rebate on EVs, while even after scaling back its subsidies China still offers up to 55,000 yuan is provided to those buying full EVs (but not hybrid models). Germany does not offer direct subsidies, but users can offset the costs of batteries against their taxes. In other countries, meanwhile, EVs receive support such as exemption from road taxes, congestion charges or parking levies.
Yet still EVs tend to cost around double the price of conventional fuel cars, and that is not their only disadvantage. Many potential buyers still suffer from "range anxiety", or concern that they will not be able to recharge their batteries quickly enough to complete longer journeys. Related to that, they also worry about the lack of supporting infrastructure for their EVs. And many are concerned that the technology is still too underdeveloped to provide the kind of driving experience and engine power they are used to.
Some of those reservations are disappearing as the technology develops and carmakers press forward with their plans. Nissan and GM have both decided to lower the price of their Leaf and Volt car respectively, while the US Energy Department has launched an EV Everywhere Grand Challenge to foster the development of an affordable plug-in electric car. GM's latest venture, a 200-mile (322 km) electric car, is also designed to overcome the problem of range anxiety. Germany's luxury carmakers, meanwhile, are overcoming the power problems by developing high-performance EVs such as BMW's i3 model range.