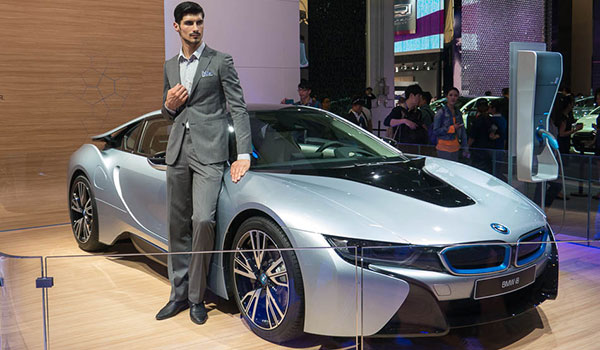 A model posing next to a BMW i8 is pictured on April 21, 2014 at the on-going Beijing International Automotive Exhibition. [Hao Yan / chinadaily.com.cn]
Sino-Germany car makers, BMW Brilliance, will open another showroom for its locally made fully electric crossover Zinoro 1E in Shanghai this year, after inaugurating its first outlet in Beijing. The joint venture also has plans to open its third showroom, which will be located in Shenyang.
Zinoro was listed among the Beijing New Energy Vehicle Catalog that allows those listed models to get a NEV plate from a separate pool. Beijing has 20,000 NEV registration quotas this year – 10,000 for individuals, and the rest for organizations.
Bi-monthly Beijing NEV registration lottery in February had a quota of 1,666 for individuals and organizations each. But it saw only 1,428 valid individual applicants, all of whom were granted registration. Applications by valid organizations totaled 2,537, and 65.7 percent of them successfully got the quota.
The NEV catalog also listed cars by BAIC, SAIC, JAC,
BYD
already available for purchase in the Chinese market. However,
BMW Brilliance
has chosen to warm-up the market through rental.
BMW Brilliance Automotive President and CEO Oalf Kastner said: "We are the first one with the electric car in premium market. We should now see how the car is accepted, how people use it. Once it's on the road, it will make a big difference."
Zinoro electric car model 1E is for rent at 400 yuan a day, or a customer may rent it for a year at 7,400 yuan a month. The annual rental comes with a worry-free full service package, including wall box charger, car registration plate, insurance, maintenance, repairs.
Zinoro's 16 A wall box can charge the battery almost full in seven and half hours for up to 150 km.
"1E's 150 km driving range, from every test the BMW group has run, accounts for basically two days usage."
The BMW i brand is also highlighting the broad spread of its NEV with the joint presentation of its first volume-produced vehicle powered purely by an electric drive system, and a progressive hybrid sports car.
The i3, BMW's latest battery hatch-back will also accept orders from April 20 at a price starting from 450,000 yuan, or 520,000 yuan with a range extender. The range extender is a small two-cylinder gasoline engine powers the battery, and turns the car into a hybrid car and brings the range above 300 km.
The i8, the car maker's plug-in hybrid concept car shows a super performing sports car with the latest technologies, including lightweight construction, carbon fiber reinforced passenger cell.
They offer three times the intensity and twice the high-beam range of conventional systems, as well as extremely low energy consumption.