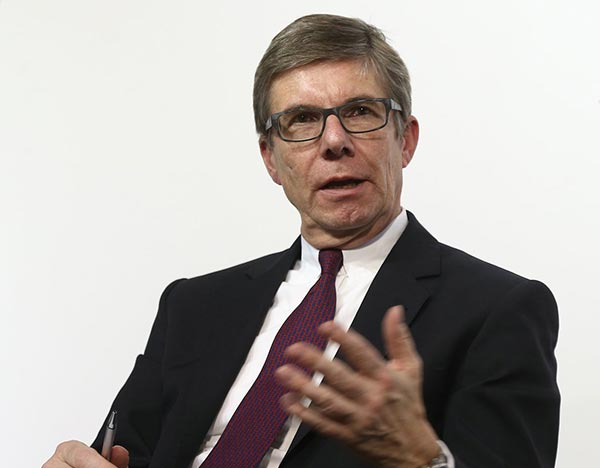 Olaf Kastner, president and chief executive officer of BMW Brilliance Automotive. [Photos Provided to China Daily]
BMW Brilliance Automotive Ltd has announced an aggressive marketing strategy for the ZINORO 1E, the first electric brand released by the Sino-German joint venture.
BMW Brilliance cut the ribbon on the first ZINORO Brand Showroom in Beijing last week. The company also announced the vehicle will be available for rental in the near future.
"When more and more customers enjoy e-mobility, it will become a firm part of our mobility pattern. As part of our company philosophy, we wanted to be the trendsetters in this respect, and therefore started to drive the ZINORO project two years ago," said Olaf Kastner, president and chief executive officer of BMW Brilliance.
"Now, the ZINORO 1E comes with a worry-free rental solution, which means we are opening the door of premium e-mobility to the public."
At the opening ceremony, BMW Brilliance signed contracts with its rental partner Zhongjin Auto Trading Co and its dealer Beijing Xingdebao Automotive Sales & Service Co Ltd, which will be responsible for running the showroom at an ongoing basis.
The brand-new ZINORO showroom is located in downtown Beijing at a modern complex called Sanlitun SOHO developed by Chinese real estate tycoon Pan Shiyi. According to the company, this location is ideal because it is where Chinese culture and international fashion collide.
It will become a promotion center for the brand, with various events to promote knowledge about alternative energy and the concept of green mobility.
In addition to the exhibition, the showroom will become a platform to provide customers with one-stop, worry-free services at the start of the rental business in the future.
The rental price, estimated from 8,000 to 10,000 yuan per month, covers the total costs of insurance, maintenance, repair, roadside assistance, loaner car services and license plates.
In addition, the showroom is also a channel through which BMW Brilliance can collect information and feedback to inform the future development of the brand because the next few years will become an important phase in which everyone is trying to figure out just how to carry out electric vehicle operations.
Furthermore, for the showroom location, Kastner emphasized the high-end positioning and excellent business environment. "It's better to have a partner like Pan. We need to cooperate with partners who share the same philosophy of ecology and sustainability that is embodied in the ZINORO," he added.