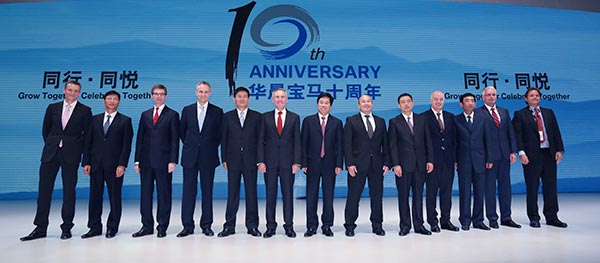 The July 5 ceremony celebrated the 10th anniversary of the BMW Brilliance with top executives in attendance. [Provided to China Daily]
BMW Brilliance aims to triple its 2012 sales to achieve even greater success in the next decade, said the joint venture's top executive at a ceremony to mark its 10th anniversary.
The big gala was held at BMW Brilliance's new Tiexi factory in Shenyang, Northeast China, on July 5.
The announcement follows a series of milestones for the Sino-German joint venture, which sold more than 140,000 vehicles with the BMW nameplate last year.
"It was the right time for BMW and Brilliance Auto to tie the knot 10 years ago," Olaf Kastner, president and CEO of BMW Brilliance Automotive, said during an exclusive interview after the ceremony.
"Because we grasped great chances in an era when China went through extraordinary changes, we have today's achievements," he said.
"When the joint venture was just established, we had a very limited production and just around one thousand employees. A few years later, development has reached beyond our expectations," Kastner said.
"Today as we celebrate our 10th anniversary, we have had more than 13,000 employees," he said.
BMW Brilliance has two factories in Shenyang that will have a combined production capacity of 300,000 units by the end of this year, 10 times more than it planned a decade ago.
The 1.5-billion-euro ($1.9 billion) Tiexi factory has BMW's most advanced paint and press workshops globally.
A new R&D center at the Tiexi plant will become fully operational during the second half this year. The R&D Center bears the responsibility to develop the models under the new brand ZINORO, a wholly owned BMW Brilliance brand for new energy vehicles.
By the end of the year, the R&D staff is expected to number 500, most of them locals.
Construction on a new engine plant near the factory is underway and scheduled for operations in 2016.
Further localization
"What makes us really proud is that our factories in Shenyang maintained world-class levels over the years," Kastner said.
Its Dadong and Tiexi factories now build the 5 Series and new 3 Series sedans with both standard and long wheelbases, as well as the X1 SAV.