BMW CEO: Future is in new energy
Updated: 2013-11-21 15:12
Luxury brand etching out a niche among the green and the wealthy
It is pretty safe to say that Liu Chuanzhi, founder of China's biggestPC maker Lenovo, is excited about the new car he is getting. To put it another way- he's positively electric.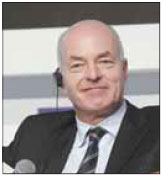 The renowned Chinese entrepreneur was the first person to order one of BMW's pure-electric i3 cars. He was enamored with the i3 from the moment he laid sight on it during an exhibition on July 29 in the Beijing's 798 Art Zone.
Liu, 69, was invited as a guest of honor to witness the world debut of the BMW's first 100 percent electric car, held simultaneously in Beijing, New York and London.
Moments after learning about this groundbreaking model, Liu leaned to BMW China President Karsten Engel, who was sitting nearby, and said that he wanted this car.
He ordered one on the spot, although it will hit the market early next year only.
There was still clear happiness in Engel's eyes, as he recalled on Monday in an interview on how Liu became the i3's first buyer in the world.
The tale forecasts a promising future for China's electric mobility market, which Engel said has "just started" and is likely to develop quickly to become the world's largest.
Sitting in a hotel in Beijing's financial hub, Engel said the BMW is beefing up service for future buyers and "all our BMW electric cars will be provided charging infrastructure". Sales of electric cars worldwide failed to tale off as quickly as manufactures had wished, despite high hopes for such models amid increasingly tougher energy and environmental challenge.
The batteries are a problem -the range on a single charge can fall well short of 150km.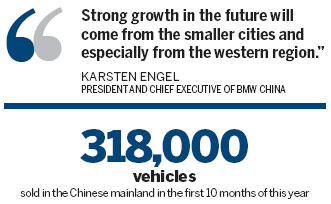 BMW is also showing their new generation of X5 30d, its first diesel-powered model in China, on Thursday, at the Guangzhou Auto Show, which will mean the premium German brand will offer domestic consumers the entire range of vehicle powertrains currently available.
The model boasts a high torque, swift acceleration and best-in-segment fuel efficiency.
According to the State Council, the production and sales of electric vehicles and plug-in hybrid electric vehicles should be increased to 500,000 by 2015 and 5 million in China by 2020. But the major issue is providing sufficient charging infrastructure, Engel noted, adding that BMW sees a demand for public charging infrastructure.
"For each customer that buys a BMW i3, we will take care of that, so you will be able to charge your car at home," he said.
"We will talk to your landlord and we will try to attach this small box in the car park and we will discuss with related people to make this happen."