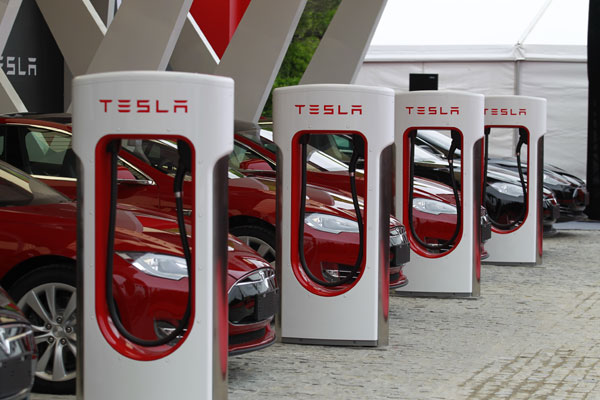 Various levels of governments announced new initiatives as the lack of charging stations continues to hobble electric vehicle sales. Ding Ding / Xinhua
E-car infrastructure open to more than State Grid
More electric vehicles are expected to hit the road in China following progress in charging infrastructure and a range of favorable government policies across the country.
In a major step on the roadmap for reform, companies other than electricity monopoly State Grid can now submit bids to build charging facilities, according to Xinhua News Agency.
"This is definitely a piece of good news for us as sales of electric vehicles are closely connected to the number of charging facilities," an executive surnamed Zhu at automaker Zotye told Xinhua.
Zhu's words were echoed by an official at the Zhejiang provincial reform and development commission.
"Opening the sector will surely promote sales. The more charging facilities, the more likely people are to buy electric vehicles."
Expanding the charging network has already been a priority for many cities, especially Beijing.
Property developers in Beijing are now required to ensure 18 percent of parking lots in new or renovated communities are equipped with charging outlets, said Niu Jinming, director of the city's committee for promoting new energy vehicles in an interview with the 21st Century Business Herald.
The move follows a plan by the Beijing government to complete construction of 1,000 public fast-charging stations by the end of the year in both downtown and suburban areas.
Two charging stations are being built along the Beijing-Tianjin-Tanggu expressway, the Beijing government information office said on its micro blog.
"When completed, they will help connect charging networks in Beijing and Tianjin, allowing electric vehicles to travel between the two cities without worries."
Charging stations are also being built along the expressway from Beijing to Hunan in Central China, according to the Changjiang Daily.