No 4, Dongfeng, Renault team for joint venture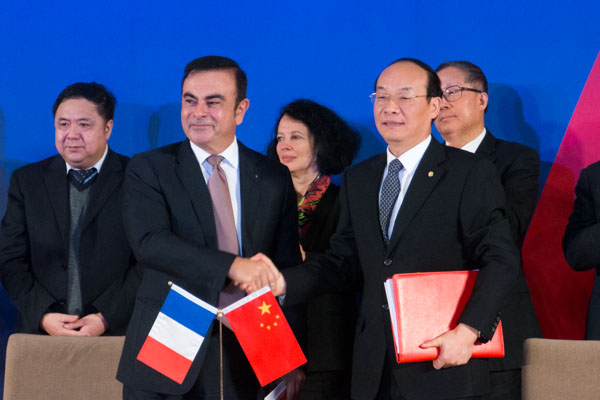 Dongfeng Motor Corp President Xu Ping (Right) and Renault S.A. President and CEO Carlos Ghosn shakes hands after signing the joint venture contract on Dec 16, 3013 in Wuhan city, the capital of Hubei province. After eight years of talks, the two carmakers finally settled their Dongfeng Renault Automotive Co production base in Wuhan city. [Hao Yan/chinadaily.com.cn]
Chinese carmaker Dongfeng and French Renault inked an operating deal in December for a 50-50 joint venture to produce vehicles and engines in Wuhan, Hubei province.
With a total investment of 7.76 billion yuan, Dongfeng Renault Automotive Co Ltd will produce 150,000 vehicles and 150,000 engines annually in the first phase, which is half of the capacity it will have when all phases are completed.
The venture plans to produce a range of new Renault vehicles, with SUVs slated first for production. It will also develop and promote new-energy cars and its own brands with Dongfeng. It plans to have a localization rate of more than 85 percent.
The venture will use the current sales channels for imported Renault cars to sell locally built vehicles and provide services. The distribution network will be expanded from the current 92 dealers to 120 by the first half of 2016, when production begins. The locally made vehicles may also be exported, subject to Renault's approval.
Four board members from Dongfeng and four from Renault will sit on the company's board of directors. Its CEO will be assigned by Dongfeng and Renault in rotation for a four-year term.
More stories & pictures: