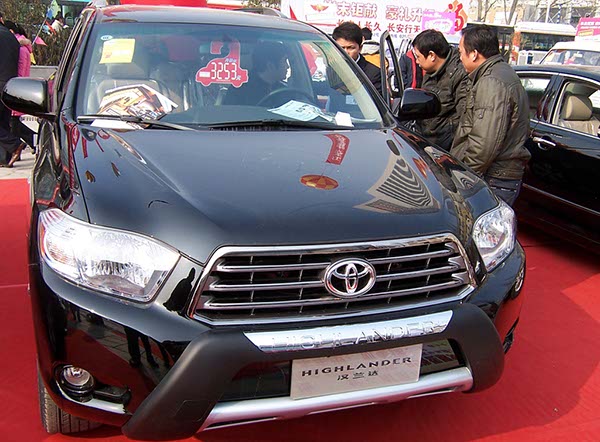 A leader in China's SUV market, GAC Toyota's Highlander sold more than 80,000 units from January to November in 2013. [Zhen Huai / For China Daily]
Experts say signals that the government may relax the nation's one-child policy in the near future are a promising sign for makers of SUVs and minivans, also known as multi-purpose vehicles.
Families in urban and rural areas will be permitted to have two children provided that one of the parents is an only child, according to the new policy, suggested by the Communist Party of China's recent central committee conference in November.
Industry insiders anticipated that the growth of families will generate more demand for SUVs and minivans, especially the seven-seat autos for family use.
"The relaxation of family planing is a boon for our company, especially the seven-seat Pajero," said Liu Wei, executive deputy manager of GAC Mitsubishi Motors.
Yang Song, deputy director for marketing and sales at Dongfeng Nissan, echoed Liu's optimism.
Yang said Dongfeng Nissan will be closely evaluating the policy's impact and making adjustments in terms of new project planning.
Experts say that China's SUV market has been surging for nearly a decade on the back of a dominant family structure in urban areas that consists of four grandparents, two parents and one child.
The "four-two-one" family structure has created more demand for vehicles with more space and seating.
The anticipated policy changes will only further boost such demands, experts said.
Guagnzhou-based Nanfang Daily newspaper reported that the proportion of SUVs in the entire passenger vehicle market has increased to 18 percent in the first 11 months of 2013, more than doubling the 8.7 percent share the segment held five years ago. In 2011, China's SUV market sold more than 1.59 million units, and in 2012, 1.83 million units, the paper reported.
In the first 11 months of 2013, SUV sales reached 2.52 million units, an increase of 53.8 percent year on year.
The growth rate was four times that of cars, according to the newspaper. "The SUV segment will continue this fast growth for a relatively long time," Yang said.
Golden time
"The coming decade will be a golden age for SUVs and MPVs(minivans)," said Bai Qingyuan, deputy general manager of Dongfeng Yulon Motor Corp.
"More SUVs and MPVs will flood the market.
"They will gradually become the first vehicle of a Chinese family," Bai said.
And the seven-seat SUVs will become more popular, experts said.
Highlander by GAC Toyota, for instance, is a leader in this new market niche.
Nanfang Daily reported that from January to November 2012, sales of Highlander surpassed 80,000 units.
The single-month sales of last June and July also broke through the 9,000-unit benchmark.
It said Hyundai's new Santafe closely followed Highlander by selling 66,000 units in the first 11 months of 2013.
Luxury auto brand Inifiti's seven-seat model JX was also well received by consumers, and it sponsored the popular TV reality show Where Are We Going, Dad?-a show that documents family tours through rural China, according to the company.
Experts said that the possible change of Chinese family structure will change the minivan market.
For a long time, minivans in China have mainly been used as commercial vehicles.
Observing the new market demands driven by the adjusting birth control policy, more and more minivan brands are aiming at the family market.
For instance, GAC Honda will unveil a new generation model for its Odyssey minivan that focuses more on family use, according to the company.