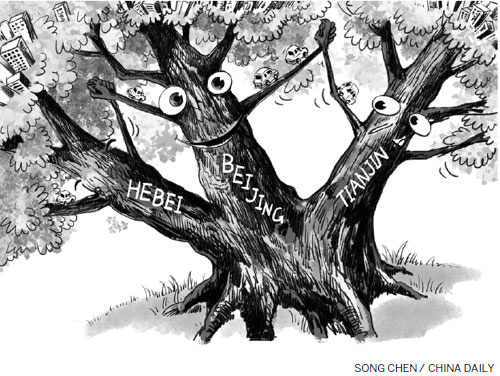 Decongesting cities is a major problem facing governments and analysts across the world. The problem is more for cities that are old and with urban infrastructure and planning lacking the physical space to rapidly expand and modernize. For many cities, geographical boundaries become major limitations for their expansion. Even if city development is essentially vertical with emphasis on tall constructions, the supporting infrastructure, particularly for public transport, needs space to expand.
This need is being felt by Beijing for quite some time now. The plan to integrate Beijing, Tianjin and Baoding - in Hebei province bordering Beijing - into a joint development region is expected to result in significant decongestion by easing both the residential and industrial pressures on Beijing.
The Beijing-Tianjin-Baoding model of development is expected to have Beijing as the core and Tianjin and Baoding as the two arms of the core stretching into the periphery.
Tianjin is one of the four centrally administered cities in China - the others being Beijing, Shanghai and Chongqing - and has already achieved considerable economic modernization and development. Its growth has been significantly contributed by its geographical proximity to Beijing.
Baoding is already well connected to Beijing. And once the formal model of integration of the three cities is established, Baoding's economic prospects will improve further. The integrated region is expected to be centrally administered and might give Baoding an administrative status similar to that of Beijing and Tianjin.
Urban decongestion is the primary objective of the integration plan, whose main beneficiary should be Beijing. As the capital, as well as one of the main centers of economic activity in the country, Beijing has experienced rapid urbanization during the last 10 to 15 years. Migration of a large number of people from rural areas in search of livelihood has led to a rising demand for hukou (household registration) in Beijing. The new applications for household registration have implications for the social security system of the city. They also have implications for urbanization in terms of the need to expand civic facilities, particularly transport, sanitation and water distribution networks.
Growth in urban population has also had played a role in rapidly rising pollution levels in the city through increased use of vehicles and energy intensive household appliances.