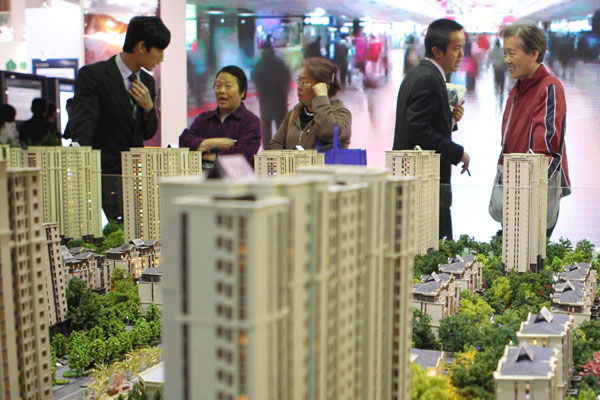 Potential homebuyers speak with real estate agents at the Beijing International Property Spring Expo on Friday. ZOU HONG / CHINA DAILY
Plan for integrated urban zone around Beijing draws interest
Real estate projects in the capital's surrounding areas are the stars of the Beijing International Property Spring Expo this year, but experts and potential buyers are warning of rising risks as prices surge.
The central government's plan for an integrated, Beijing-centered economic zone drew double the usual number of property projects from neighboring Hebei province and Tianjin to the expo, said the event organizer on Friday.
The expo, which ends on Sunday, is regarded as a barometer of the real estate market. It's already drawn about 90,000 visitors.
Zheng Xiangdong, secretary of the event's organizing committee, said about 80 projects from Beijing's neighbors were represented at the expo, a significant surge compared with the autumn session.
Those projects "account for almost one-third of the domestic projects exhibited," he said.
Developers from the district of Wuqing in Tianjin are showing 20 projects, while those from the Hebei city of Zhangjiakou are offering a dozen, said Zheng. "In every case, it's their first time at the expo."
In Baoding, a city in Hebei province, housing prices and speculative buying surged during the past few weeks amid rumors that it might assume some of Beijing's administrative responsibilities.
"Cities near Baoding such as Gaobeidian and Zhuozhou also benefited", said Li Dandan, a real estate agent at the expo. "Apartment prices in Langfang, for instance, also look good to buyers," she added.
The cities that Li mentioned have experienced a 20 percent increase in housing prices since the Lunar New Year, which ended in early February.
"About two-thirds of the buyers are speculators, some from as far away as Shanghai and Henan," Li said.
Frank Chen, director of China research for commercial real estate firm CBRE Group Inc, said the rapid increase of home prices in these towns is unsustainable.
"There will probably be a market correction later, given the experience in the office market after the plan for the Shanghai free trade zone was revealed," said Chen.
In the Zhangjiakou district of Chongli, which has many tourist attractions, transaction volume has surged 10 percent, said an exhibition presenter surnamed Zhang.
Prices for housing near the Baoding East railway station, which connects the city to Beijing, surged from 5,000 yuan ($805) per square meter to 8,000 yuan in just in two weeks, said Zhang Jicheng, an engineer who lives in the city and travels to Beijing on business each week.
He said he'd been monitoring local housing prices for a long time but missed the chance to profit on the surge. "I heard many buyers from outside [the city] bought units ... the market in the city is very frothy", said Zheng.