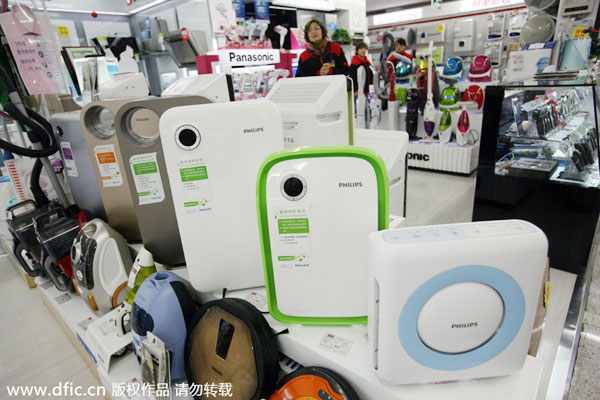 Air purifiers are for sale at a home appliance store in Shanghai, China, Dec 10, 2013. [Photo/dfic.cn]
What do you do to battle unhealthy air? Many Chinese consumers are racing to equip their homes with a high-end purification systems that can cost upwards of $2,000. Demand for these devices is soaring in China, according to American entrepreneur Peter Mann - and he smells opportunity.
Mann's Texas-based startup Oransi LLC is one of the latest foreign brands aiming to grab a slice of China's fast-growing air purifier market. The company said it shipped the first batch of 500 air purifiers to China earlier this year and they "sold out in just a few days".
The market in China is at least 20 times bigger than the US market, said Mann, who is Oransi's founder and chief executive officer.
"In the US, it might be a $1 billion market, but in China, it's like a $20 billion to $30 billion market," he said.
Mann, who held executive posts at Tech Data Corp and Dell Inc, founded Oransi in 2009 after selling an e-commerce company that sold appliances, including air purifiers.
Oransi's initial products were focused on affordable air purifiers effective for allergies and pollen. Mann has switched his focus to make products that can screen out PM 2.5-diameter particles, which are about 100 times thinner than a human hair. Those particles are small enough to enter the lungs and bloodstream.
China and India have the world's highest average exposure to PM 2.5, according to the 2014 Environmental Performance Index, which is jointly compiled by Yale and Columbia universities.
However, air purifier market penetration in China remains relatively low, compared with developed countries such as the US and Japan.
According to a report published in July 2013 by TechSci Research, the market for air purifiers in China is expected to post a compound annual growth rate of about 34 percent through 2018.