Dongfeng Renault Automotive President Jacques Daniel discusses the joint venture, the plan to produce world-class cars in China and his belief in people in an interview with China Daily website.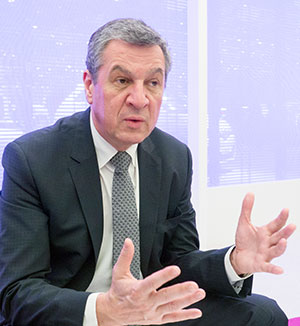 Dongfeng Renault Automotive President Jacques Daniel says the joint venture can achieve lots of things on March 5, 2014, the second media day of the Geneva International Motor Show in Switzerland. [Hao Yan / chinadaily.com.cn]
Dongfeng Renault president believes the Sino-French joint venture in Wuhan in China will work. Jacques Daniel, the 54-year-old president of Dongfeng Renault Automotive Co, is confident and enthusiastic about the joint venture's future in the world's largest auto market.
"I strongly believe in people," the gray haired Frenchman said at Renault pavilion at Geneva International Motor Show in Switzerland. He sees staff members as a group instead of individuals of different regions, although many of them belong to different countries, including China, France, South Korea, and Japan.
The company, which had 300 employees in 2013, plans to increase the total strength to about 1,000 by the end of this year, with about 90 percent of the workforce composed of Chinese. By 2015, it hopes to have 2,000 people working for the company, with 96 to 97 percent of them from China serving in every field, including manufacturing, research and development, human resource, finance, etc.
The new staff members will be trained to ensure that they operate in line with Renault's global principles, so as to ensure consistency in quality.
This way the Chinese customers will have high-quality local-made Renault cars "exactly the same as in France," according to Daniel.
Currently people in China can only buy imported Renault cars that are mostly shipped in from South Korean Renault Samsung Motors. As the current sales are largely coming from the compact SUV Koleos, Dongfeng Renault has decided to target the SUV segment with a local manufactured model, which will hit production in the first half of 2016.
In 2013, the company sold 34,157 units in China, 22.6 percent more than 27,857 units it sold in 2012, while its global sales numbers were 2.29 million units, according to Renault Atlas 2013.
Until local production starts, Renault will keep introducing new models to China. The next imported model under consideration is new Espace crossover, which has not been launched yet, continuing the company's SUV segment positioning, according to Laurens van den Acker, Renault's Senior Vice-president in Industrial Design.
Although some customers prefer imported cars, the local-made cars by the joint venture in China will contribute the bulk of sales. Imported cars may end-up in a niche market when the local-made cars are available.
Road ahead
"I'm sure the joint venture can achieve lots of things," said Daniel, "What people can do is amazing."
He thinks part of his joint venture president role is to make sure both parties share the same vision. Until now Renault China was a subsidy and many people had become used to the way the company was operating as a junior partner, with others managing the controls.
More Geneva motor show pictures: