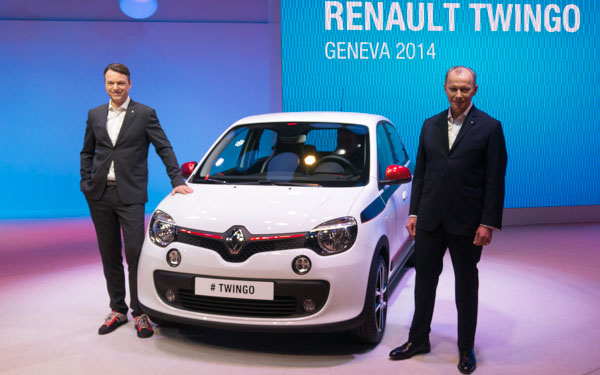 Renault Senior Vice-president in Industrial Design Laurens van den Acker (Left) and Chief Competitive Officer Thierry Bollore pose for photos at the New Renault Twingo world premiere on March 4, 2014, the first media day of the Geneva International Motor Show in Switzerland. [Hao Yan / chinadaily.com.cn] 
Now the Chinese and the Frenchman are in a 50:50 percent venture, so either of these parties will not control everything. Everything will be decided with consultation, said Daniel.
Daniel joined Renault in 1986 and has been serving as Renault's senior vice-president since February 2013.
"Jacques is 50 percent Renault and 50 percent Dongfeng. Jacques does not belong to Renault only, or belong to Dongfeng only," said Daniel.
The joint venture's development strategies will be decided by Dongfeng, as it knows the market better, according to Renault Executive Vice-president and Chief Performance Officer Jerome Stoll.
Gold-triangle alliance
Dongfeng Motor Corp and Renault S.A.S officially signed the 50-50 Dongfeng Renault Automotive Company agreement in December 2013 in Hubei province. The joint venture enables Renault to build a 150,000-unit capacity industrial facility in Wuhan, capital of Hubei province in Central China.
The 95 sq km manufacturing, research and development base is in the Wuhan Economic Development Zone, where the Dongfeng Motor headquarters is located.
Dongfeng Renault's Wuhan plant is also close to Dongfeng Nissan Passenger Co's 200,000-unit capacity plant in Xiangyang city,Hubeiprovince, manufacturing Nissan's Murano SUV and Teana sedan.
"Dongfeng-Renault-Nissan gold triangle" is what Dongfeng Motor Corp President Xu Ping and Renault S.A.S President and CEO Carlos Ghosn both referred the relationship as in the news conference after the Dongfeng Renault joint venture signing ceremony in Dec 2013 in Wuhan.
Renault S.A.S and Nissan Motor Co forged an alliance in 1999 and founded Renault-Nissan BV in 2002. In 2003, the Japanese carmaker and Dongfeng entered the joint venture.
Dongfeng-Renualt can work with Dongfeng and Nissan in parts purchasing, since 70 percent of the car will be purchased parts, the already existing suppliers will help Dongfeng Renault save time and cost in production, according to Daniel.
Nissan Chief Planning Officer Andy Palmer said the gold triangle alliance may help Dongfeng Renault and the alliance will benefit from the economy of scale.
Renault-Nissan's shared platform is being rolled out next year inIndia. With Dongfeng's help, it will no doubt be used for China too if it is successful. These synergies will allow Renault-Nissan to boost production and develop a flexible range of models at an affordable price, according to Economist Intelligence Unit's Managing Editor Ana Nicholls.
Although previously Renault was not keen to enter the Chinese market, but the focus now is on China, said Stoll.
More Geneva motor show pictures: