sChinese carmaker Chery Automobile Co announced the prices for its new SUV Tiggo 5 on Nov 28 in Shanghai after a preview at the Guangzhou auto show.
The price range for the largest Chery SUV is 93,900 to 150,900 yuan ($15,411 to 24,765). The company also announced an immediate 10,000 yuan price cut for the first batch of customers. That means early customers can get a Tiggo 5 SUV with manual transmission (MT) for as low as 83,900.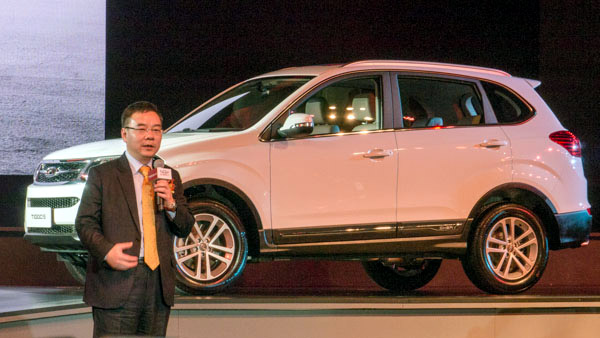 Huang Huaqiong, general manager of sales announces the prices of Chery's new SUV Tiggo 5 on Nov 28, 2013, at the launching ceremony in Shanghai. [Hao Yan/chinadaily.com.cn]
Chairman of the Board and General Manager Yin Tongyao said the Tiggo 5 fulfilled the company's promise of making high quality cars.
"We realized the brand redefinition, system transformation, and the leap in product quality," Yin said.
The company will also offer early buyers of Tiggo 5 five services, including 24-hour roadside assistance. "Chery would not have realized its development without the trust and support from our customers in the past 16 years, and they are the greatest motivator for Chery's progress," said Huang Huaqiong, Chery's general manager of sales.
The Tiggo 5 is powered by a 2-liter four-cylinder Dual Variable Valve Timing (DVVT) engine. It has a maximum power of 102 kW at 5,750 rounds-per-minute, and the torque peaks at 182 Nm at 4,500 rpm.
Customers can choose from seven-speed Continuously Variable Transmission (CVT) or five-speed MT. The three MT versions are priced from 93,900 to 110,900 yuan, while the CVT versions are from 112,900 to 150,900 yuan.
The SUV has a length of 4,506 mm, width of 1,841mm and a height of 1,740mm, with a wheelbase of 2,610mm. Its full load ground clearance is 163mm.
The Tiggo 5 is expected to compete with Great Wall Motors' Haval H6 and Haima Automobile's Haima 7.