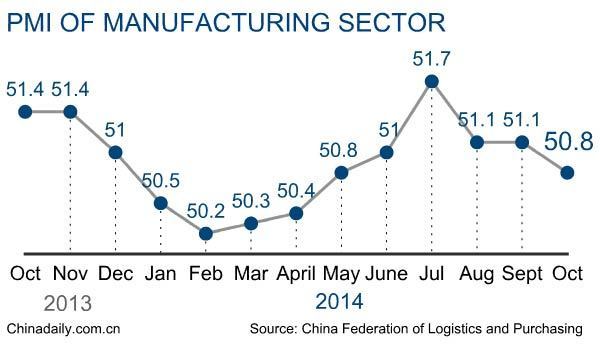 BEIJING -- Activity in China's service sectors continued to moderate in October, with the purchasing managers' index (PMI) for non-manufacturing sector sliding to its lowest print since January, an official survey showed on Monday.
The purchasing managers' index (PMI) for the non-manufacturing sector posted at 53.8 percent last month, down 0.2 percentage points from September, according to a report jointly released by the National Bureau of Statistics and the China Federation of Logistics and Purchasing.
However, the reading was still above the 50-percent boom-bust line, which separates expansion from contraction on a monthly basis.
The PMI samples 1,200 non-manufacturing enterprises of various sizes nationwide. It tracks activity in sectors including services, construction, software, aviation, railway transport and real estate.
The sub-index for the construction industry fell to 58.5 percent in October from 60.2 percent in September. Sub-index for services, however, edged up 0.1 percentage points from September to 52.6 percent last month.
New order sub-index for the entire non-manufacturing sector advanced to 51 percent in October, up 1.5 percentage points from the previous month.