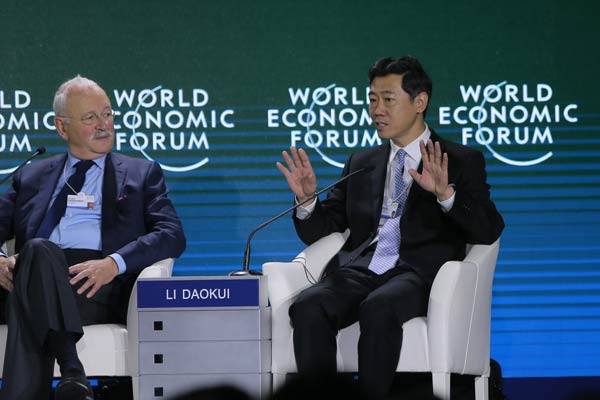 Li Daokui (right), professor at Tsinghua University, speaks at a panel discussion in Tianjin on Wednesday as Victor Halberstadt, professor at the University of Leiden, listens. Provided to China Daily
Against the backdrop of a "surprisingly weak" global economy in the first half of 2014, economists on the first day of the eighth Annual Meeting of the New Champions in Tianjin struck a relatively upbeat note on China, saying new engines of growth and structural reforms promise to put the economy on a more sustainable path.
The global economy has achieved a "moderate recovery", but the pace of expansion in the first half of this year has been "surprisingly weak", Zhu Min, deputy managing director of the International Monetary Fund, said at the start of a panel discussion on Wednesday.
"Emerging markets have passed through the heights of the past economic cycle. Ninety percent of emerging economies experienced a deceleration in the past 18 months," he said.
The IMF is scaling back its 2014 global growth forecast from 3.7 percent to about 3 percent. It will release new projections on Oct 7.
A big question mark, which dominated Wednesday's panel discussion, is the timing of the United States Federal Reserve's normalization of interest rates.
"Asset prices are being priced with the idea that higher interest rates will be long in coming and slow, but the Fed is saying, 'No, it's going to be faster than that'," said Kenneth Rogoff, a professor of economics at Harvard University. "It might be a shock to the system."
Zhu said a big issue around the world is how to get prepared for the unwinding of US quantitative easing. He warned that the market may have a different outlook and response than the Fed expected, and that contrast bears consequences for global asset prices, as well as for sovereign debts in many countries.
Commenting on China's economy, Zhu said the anti-corruption campaign bodes well for the "enhancement of transparency and governing structure".
"Any economy that aims for healthy growth cannot tolerate corruption," he said.
Talking about the risk of a sagging property market, he urged the government to find alternative growth points to reduce its reliance on real estate. At present, he said, the problem is the lack of alternatives.
Li Daokui, dean of the Schwarzman Scholars Program at Tsinghua University, also pinned hopes on China's growth model shift.
He outlined three potential growth points for the next decade: consumption-based infrastructure spending (such as urban subways), private consumption and the "greening" of production capacity.
"The slowdown is temporary. If the restructuring is successful, there will be a U-shaped recovery," Li said, adding it should not be a problem if China's economy grows by only 7.5 percent this year.
Li also said that China plans to free up its deposit rates and ensure its capital account is liberalized on a "basic" level "within three years".
"My understanding is that for the capital account opening, the aim is to have it 'basically' opened within three years," said Li. "It is still uncertain when it will be fully opened."
People's Bank of China Governor Zhou Xiaochuan said in March that China would free its deposit rates in one to two years, but one month later, Deputy Governor Yi Gang said Beijing was not ready to let markets set rates.