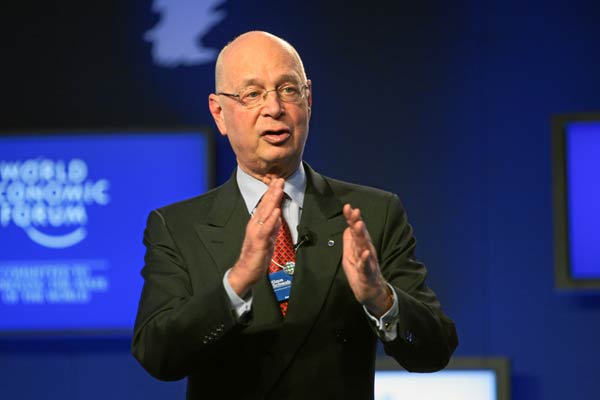 Klaus Schwab, founder and executive chairman of the World Economic Forum. CHINA DAILY
Notes the right qualities among China's leaders
Prior to the 8thAnnual Meeting of the New Champions that opens today in Tianjin, Klaus Schwab, founder and executive chairman of the World Economic Forum, talked about issues relating to the Chinese economy with China Daily reporter Zheng Yangpeng.
What are the highlights of the Annual Meeting of the New Champions 2014 in Tianjin?
This year's meeting comes as our world is undergoing rapid and far-reaching change. Economics, the environment and technological advances are reshaping conditions in complex, interconnected and unpredictable ways.
The meeting is the foremost gathering of entrepreneurial talent shaping the future of business and society. There are global growth companies, young global leaders, young scientists, technology pioneers, social entrepreneurs and global shapers, together with the forum's members and partners. This year's theme - creating value through innovation - is designed to emphasize creative thought with a focus on China and emerging markets.
The past year has seen changing dynamics in the world - while the US recovery is gaining momentum, emerging economies are struggling with slower growth, high inflation, weakening currencies and capital outflows. Do you think this pattern will last long?
The key priority for emerging economies is to boost their competitiveness by furthering structural reforms and productive investments such as human capital development and the innovative capacity of their labor forces. Increasingly, innovation is ever-more critical to long-term economic potential.
As such, I feel that the traditional distinction between "emerging" or "advanced" economies will gradually disappear and we will instead refer to them as "innovation-rich" versus "innovation-poor".
This is true of emerging economies, which until now relied on credit-fuelled investment and failed to implement market-oriented reforms that foster entrepreneurial talent.
So the challenge is to move to long-term increases in productivity, which requires innovation, investment in new technologies, open economies and private-sector development. This transition is difficult and requires bold leadership that advances collaboration between business, government and civil society to create a competitive ecosystem.
While many observers fear China's slowdown will affect the world economic recovery and dampen external demand in many countries, some have argued that it is conducive for reform, which will lay a foundation for future sustainable growth. What do you think?
I have said before that we need to build a world in which the quality of life, and not just the quantity of production, is at the center of our activities. This is true for China, which now faces the challenge of moving from a growth model based on investment and exports to one led by internal demand.
Innovation is needed to generate high-income jobs. China is not yet an innovation powerhouse, but I believe it can be.
The so-called "second-generation reforms" required are structural in nature, future-oriented and difficult to realize. They include labor market reforms and liberalization that encourage competition, access to loans for SMEs and reduced barriers to entry, giving entrepreneurs the ability to transfer talent into products, services and institutions that meet the needs of the societies they serve.
I believe China is laying the right foundations. Our latest Global Competitiveness Report shows gains in a number of areas consistent with long-term gains in productivity.
The Third Plenum of the 18th CPC Central Committee laid out a grand blueprint for China's overall reform. Eight months have passed and there are concerns that there is little substantial movement so far. Which area do you think is the most urgent for reform?
Since my first visit to China in 1979, I have observed one repeating lesson: the pessimists have always been wrong and continually underestimated the resilience of China in the face of significant challenges. The World Economic Forum's latest Global Competitiveness Report shows China as the highest-ranked BRICS economy, and despite a slowdown from the breakneck pace of the past decade, we see encouraging signs that growth is sustainable.
China's leadership has established an enormously ambitious agenda that will require all the building blocks for an inclusive and accountable ecosystem that allows for entrepreneurship and innovation to flourish: education and skills, cooperation between research and business, financing for SMEs, and removing barriers that limit competition.
You have met Premier Li Keqiang several times. Any comment on the new administration?
I see four qualities that define good leaders: brains, soul, heart and good nerves. As a leader, you need intellect to know what you are doing. That is brain. Your soul gives you a direction, a compass and a vision. Your heart brings passion and compassion. Finally, leaders must be bold to combine a strong vision with the ability to translate that vision into action, even with risky odds. That is nerves. I see these qualities embraced by China's leadership.