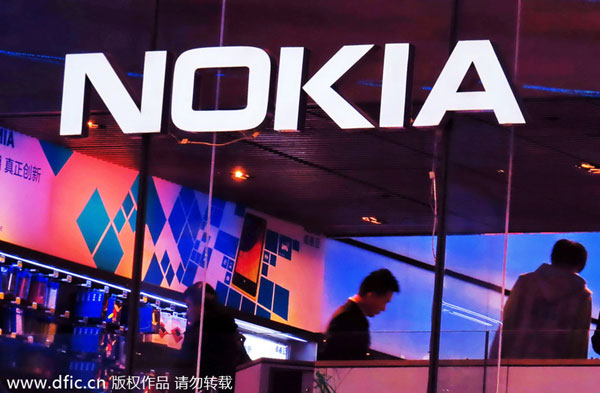 Customers walk past the logo of Nokia at a store in Shanghai, Feb 20, 2013. [Photo/IC]
SHANGHAI - Nokia's China division said on Tuesday that sales in the country accelerated during the second quarter, up 18 percent from the first quarter this year.
The 673 million euros ($756 million) in sales during the second quarter in China came after Nokia was chosen as a supplier for the country's leading telecom operators for its technological breakthroughs in mobile communication, the Internet of Things and cloud computing, said Wang Jianya, Nokia's president for greater China.
Among Nokia's growth drivers in China, the company has secured a one-year contract worth 1.36 billion euros with China Mobile, the country's largest telecom operator by mobile subscribers.
"We are confident that the momentum in the first half will continue and lead to even better results during the second half," Wang said.
Nokia reported 5.7 billion euros in net global sales during the second quarter this year, with its two major businesses, telecom and innovative technologies, each falling 11 percent from the same period a year ago as mobile telecom business in developed markets approaches saturation.
Nokia announced a merger with Alcatel-Lucent in April last year and said its China telecom equipment business will be incorporated into a joint venture with China Huaxin Post and Telecommunication Economy Development Center, set to be registered in the second half of this year in the Shanghai free trade zone.