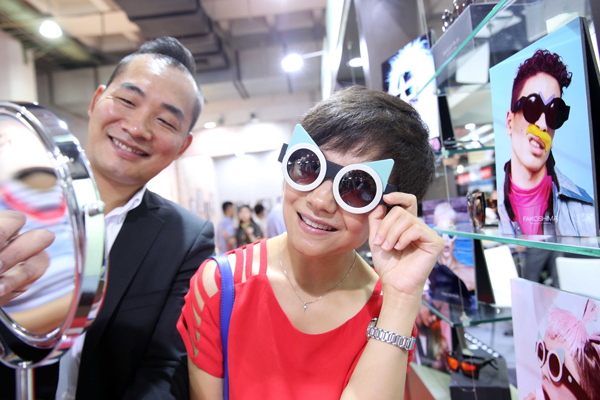 A visitor tries on a stylish UV-light protective glasses at an international optometric and optical fair in Beijing. CHEN XIAOGEN/CHINA DAILY
Stores are expected to double to 120,000 by 2021, spawning a 1 trillion yuan market
Li Rongnan, 36, a Shanghai-based corporate legal affairs consultant, bought three pairs of glasses on a weekend this scorching summer.
"One for driving, one for swimming, and one for playing tennis," said Li, adding that various situations in life demand matching eyewear.
He now has eight pairs of glasses, including three sunglasses, for a better vision and, yes, great looks.
Li said a pair of good glasses is a multipurpose accessory. "It's worth investing in because it is perhaps the only item that you wear the longest in a day. It is part of how you dress for an occasion, and it's part of your personal image," said Li.