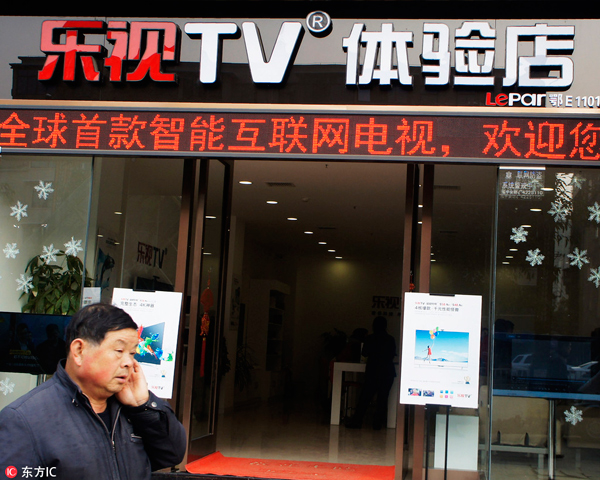 A pedestrian walks past a store of Letv in Yichang city, Central China's Hubei province, Feb 4, 2015. [Photo/IC]
Chinese internet major LeEco Holdings Ltd said on Tuesday it aims to build an open closed-loop ecosystem for its large-screen television and provide various value-added services for users.
"Our ecological TV is not just a TV set, but an ecosystem based on vertically integrated industrial chain and cross-border industrial value chain," said Liang Jun, president of Letv Zhixin Electronic Technology (Tianjin) Co Ltd, LeEco's subsidiary.
Different from traditional TV manufacturers, LeEco offers personalized service for different families.
The users can not only watch TV programs, but also watch movies, play games and go shopping through TV.
Zhang Minhui, LeEco's president of marketing, said the era of users has arrived and the company will focus on users' experience, making the large-screen TV become a linkage between the brand and the users' feeling.
Statistics from market research company Nielsen-CCData showed the 94 percent of LeEco's TV users' age is between 20 to 45, 86 percent of the users come from two-member and above families and 58 percent of the users' salaries are over 10,000 yuan per month.
Last month, LeEco spent $2 billion on acquiring VizioInc, a major US television manufacturer. This move is expected to give LeEco about 20 million large-screen users.
It also launched a camera which combines gesture recognition, 3D somatosensory recognition and video call, priced at 899 yuan. It will be sold next Monday.