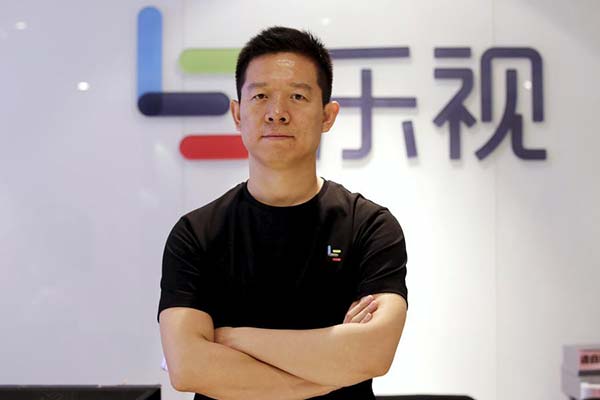 Jia Yueting, co-founder and head of Le Holdings Co Ltd, also known as LeEco and formerly as LeTV, poses for a photo in front of a logo of his company in Beijing, April 22, 2016. [Photo/Agencies]
Chinese internet company LeEco announced last weekend that its founder Jia Yueting had been appointed as the new chairman of the board of domestic smartphone maker Coolpad Group Ltd.
Holding a total 28.9 percent of Coolpad's shares, the company has become the largest shareholder of the handset manufacturer.
LeEco first invested HK$2.74 billion($353 million) to buy Coolpad's shares on June 28, last year.
In mid-July, the company bought another 11 percent of Coolpad's shares from Data Dreamland, the former largest shareholder, for HK$1.047 billion.
According to James Yan, research director at Counterpoint Technology Market Research, leading video content provider LeEco's move to invest in Coolpad aims to enlarge its subscriber base.
The two companies have been working together to launch a new flagship named Cool 1.
A certified Weibo user, believed to be the official account of the new brand, was registered in late July on the twitter-like social media platform.
A series of promotional posters have been posted online by the account, showcasing a new handset launch event to be held on August 16 at the LeSports Center, originally the Beijing Wukesong Culture & Sports Center.
According to online rumors and unconfirmed pictures released on the website of Telecommunication Equipment's Network Access Managements (TENAA), the new handset will be in the upper echelon with Qualcomm's latest Snapdragon 820 chip and 4GB of RAM. Also the phone will equipped with 2K display, 64GB of storage, and 3,500mAh battery.
Users are able to have interchangeable operating systems, as both LeEco's EUI and Coolpad's CoolUI, which are all Android Marshmallow-based, will be featured on the device.
According to the company, before the stock deal, Coolpad's 2016 global sales target was 30 billion yuan -- 70 percent from China and 30 percent from overseas -- and the company predicted its overseas market sale will increase 100 percent year-on-year within the next 3 to 5 years, making its overseas sales equivalent to its China sales.
"The strategic significance is more important than the actual sales volume for the forthcoming new device since it's the first co-developed phone," said Counterpoint's Yan.