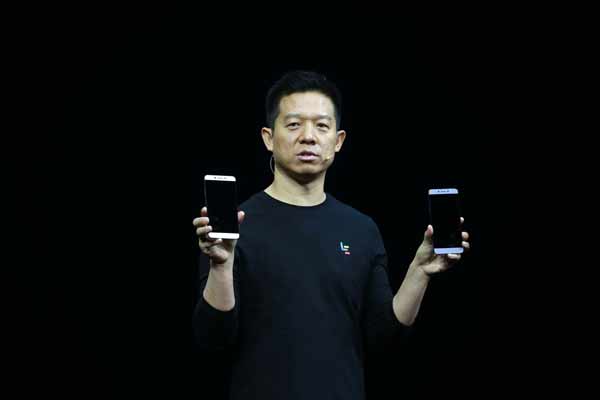 Jia Yueting, co-founder and head of LeTV, introduces new smartphone on April 20, 2016 in Beijing. [Photo/VCG] 
Chinese internet firm LeEco will launch its smartphones in Russia and the United States this year, as the company steps up efforts to go global.
The move came shortly after the Beijing-based firm spent $2 billion on acquiring Vizio Inc, a major US TV manufacturer - highlighting its ambition to take on rivals such as Apple Inc in the global arena.
Liu Hong, co-founder and vice-chairman of LeEco, previously known as LeTV, said Russia, the US and India are the company's key overseas markets.
"We already managed a rapid rise in India by sticking to the ecosystem strategy. And now we are preparing to launch our products in Russia and the US," Liu said, adding that going global is one of the company's top priorities in the second half of the year.
The company started as an online video-streaming site, but quickly evolved into a heavyweight with presence in smartphones, TVs, virtual reality and electric vehicles. Its strategy is quite straightforward: selling internet-enabled devices that are bundled with video content. That is, in China, it sells smartphones and TVs that include a LeEco membership that allows their users to watch TV shows and movies.
In India, it has sold 500,000 handsets within 100 days after entering the world's fastest-growing smartphone market in January. It partnered with Eros International Media Ltd, an Indian motion picture production and distribution company, and with leading Indian TV channel Yupp TV to offer quality content.
According to Liu, the company will stick to the business model in the US, the global hub for innovation where consumers are particular picky about IT products.
"It is very expensive to buy video content in the US, but we will replicate what we have done in China," Liu said, adding it will partner with small and medium-sized video sites in the US to build its local content library.
Also, acquiring Vizio will give it access to about 8,000 retail stores in the US, laying a sound foundation for selling hardware there.
Jin Di, an analyst at the research firm International Data Corp, said LeEco's business model will work well in Southeast Asian countries and Russia.
"Consumers there love watching videos on smartphones. As countries such as India and Thailand make efforts to upgrade their telecom networks, the demand will continue growing and will fuel LeEco's business," Jin said.