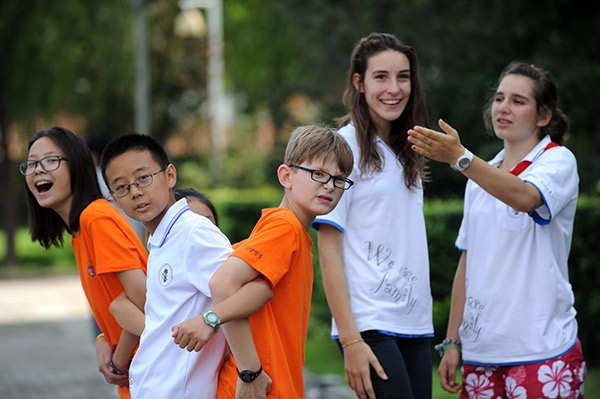 International students play games and exchange knowledge of cultures at a summer camp in Shanghai.ZHAO JING/CHINA DAILY
As Chinese people go global not just as tourists but as students, investors, businesspeople, researchers and inventors, interest in foreign cultures is increasing by the day.
To sate the Chinese hunger for more information and knowledge, embassies and consulates of foreign countries are organizing summer-time events and special activities across China.
One of the popular events is the forum about campus life overseas as many Chinese students enrol in famous high schools and universities outside China.
Some consulates, like the US Consulate General in Guangzhou, have even made such forums a regular part of their outreach activities.
To quench children's thirst for knowledge on nature, the embassy of the Netherlands recently held a program on animals.
For teenagers and collegians, some consulates are organizing events on photography and theater. Some students may be already aware of plays such as En attendant Godot as excerpts of them figure in their textbooks. But watching plays is expected to give them a better understanding of foreign countries' history, performing arts and literature. Also, such activities enable parents to spend quality time with their children.
The American Employees Association under the US embassy in Beijing also organizes summer camps. Since 1997, the AEA has been partnering with Camp Adventure Child & Youth Services to provide an American-style summer camp.
Weekly themes are defined in advance. Boys and girls from all over the world mingle together in the camp. TV-viewing and use of cell phones are not allowed in the camp, to help participants focus better on activities and hone interpersonal skills in a multi-cultural environment.